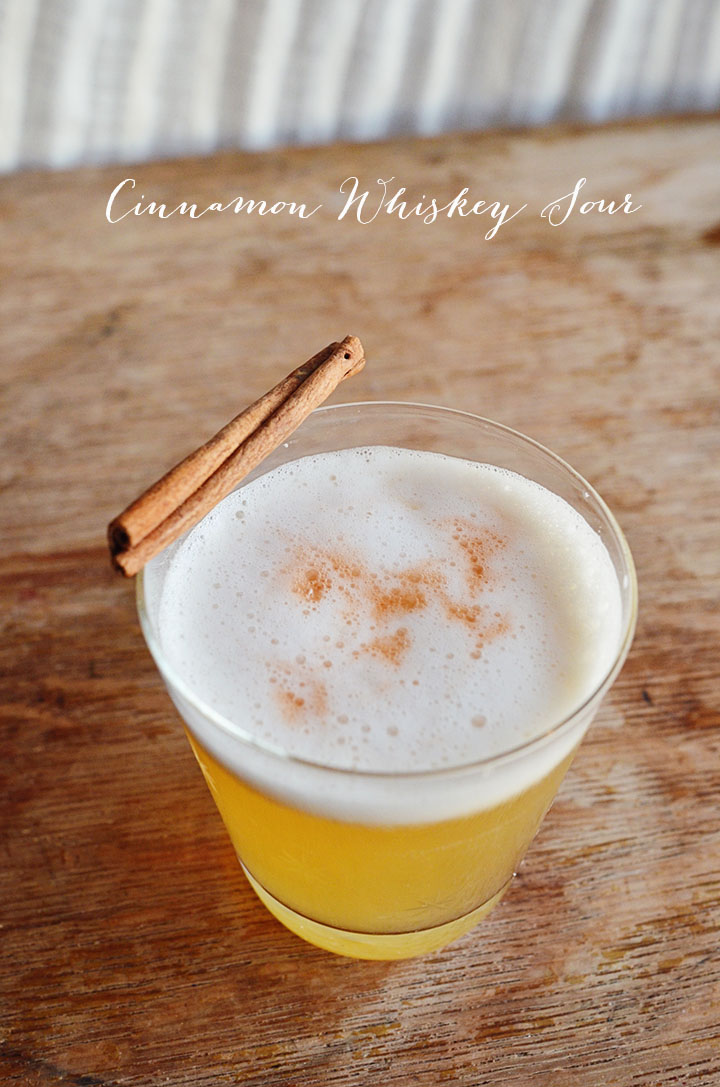 The whiskey sour is my favorite drink right now.  I love the way the egg whites bring a touch of stability to the always battling sweet and sour elements of a cocktail.  Whiskey sours are also very fun to play around with as you can try so many different flavors in the simple syrup.  For this drink I went with cinnamon.  I had this combo at Craft & Commerce (our best restaurant/bar for cocktails in San Diego) and I fell in love immediately.  It brings a little bit of holiday spirit but can totally be served any time of the year.  Plus, cinnamon is a wonderful health aid…so…bonus points!!!
For those who are wondering about the raw egg white, don't worry.  If you get your eggs from a local farm who is taking care of their chickens the way they should, raw egg whites are totally fine.  If you are super nervous about this idea and still want to try the drink, then you can buy pasteurized egg whites at whole foods if you have no other options and NEED to have whiskey sours in your life.  I would still recommend that you look into fresh eggs anyway, for the sake of your overall health.  Did you know that America is one of the few countries who refrigerate their eggs?  That's kind of a scary thought when you beg the question why.  Something to ponder…
Local Hint: San Diego, you can find amazing pasture-raised chicken eggs from farms like Spur Valley Ranch.  Doesn't get much better than them unless you are raising chickens yourself! ;)  Check here for market availability.
Cinnamon Whiskey Sour:
2 ounces rye whiskey (preferably Bulleit or your favorite small batch)
3/4 ounces freshly squeezed lemon juice
3/4 ounce cinnamon simple syrup (recipe below)
1 egg white
a few dashes of bitters
For the syrup: Combine 1 cup sugar, 1 cup water, and 1 Tablespoon cinnamon bark in a small pan. Cook over medium heat until boiling and the sugar is dissolved.  The cinnamon bark from Ceylon cinnamon, as opposed to Cassia, is what you're looking for.  Ceylon is known as the "true" cinnamon that was bartered and traded so long ago in the days of Marco Polo and beyond.  Obviously, you can make a syrup with a cinnamon stick but I threw that little bit in there in case you are the type of person who wants to know such things and make the best cinnamon syrup possible. ;)
For the drink: Fill your cocktail shaker with ice and add all of the ingredients besides the bitters.  Shake for at least a minute so that the egg white can get a nice foam in the shaker.  Pour into a glass without ice and throw a few dashes of bitters on top.  If you find the drink to be too sweet, try substituting all or half of the lemon juice for lime juice.  Enjoy!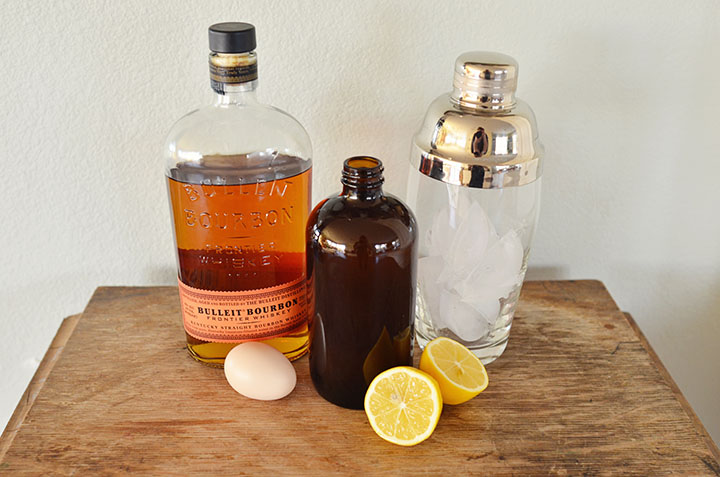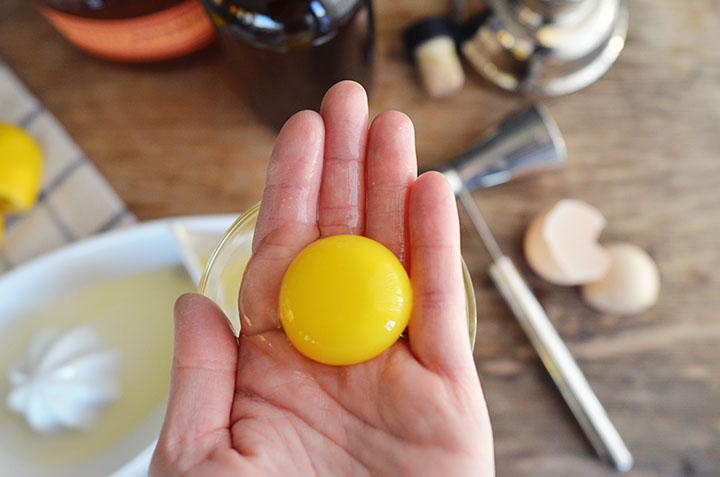 Best way to separate the white from the yolk is with your hands!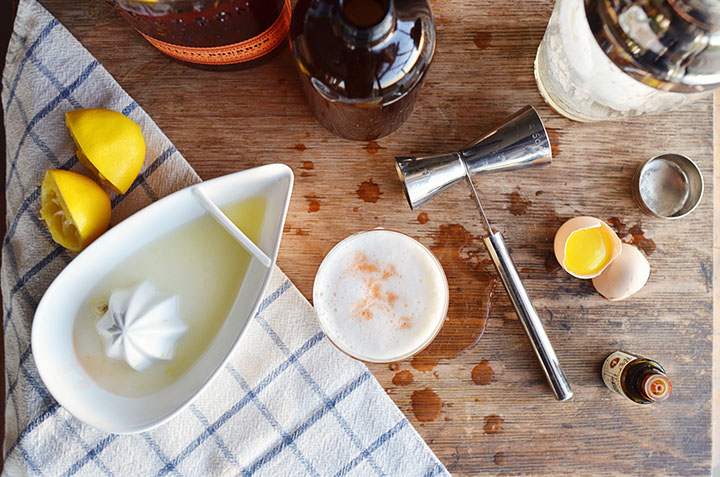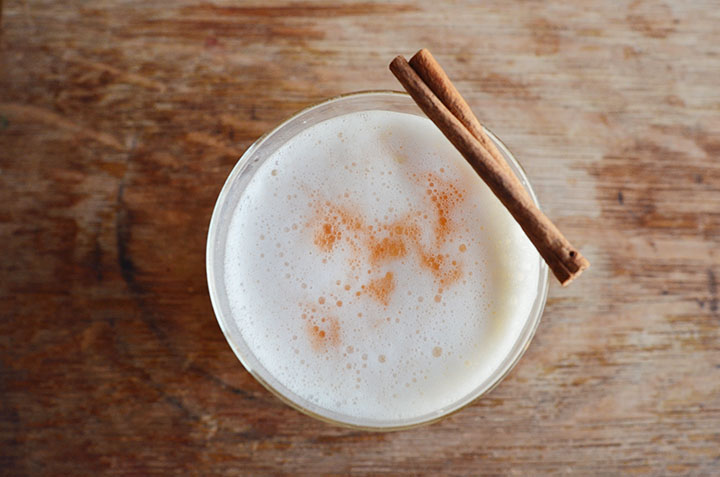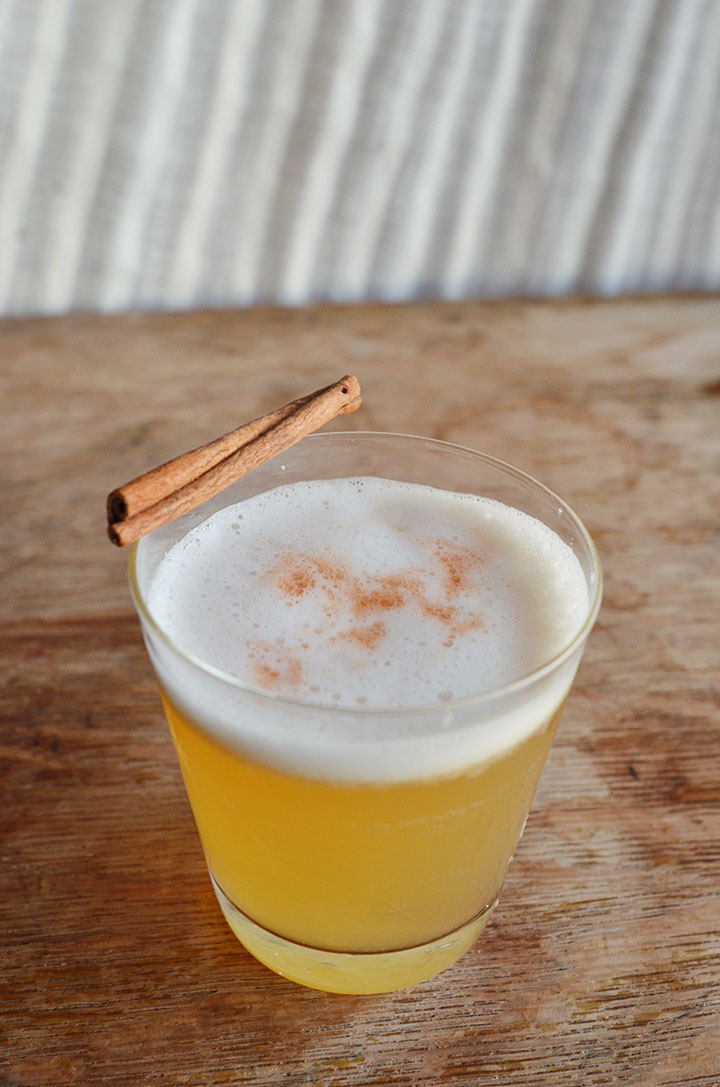 Click below to follow us on:
F a c e b o o k  //  T w i t t e r  //  P i n t e r e s t  //  I n s t a g r a m  //  E m a i l