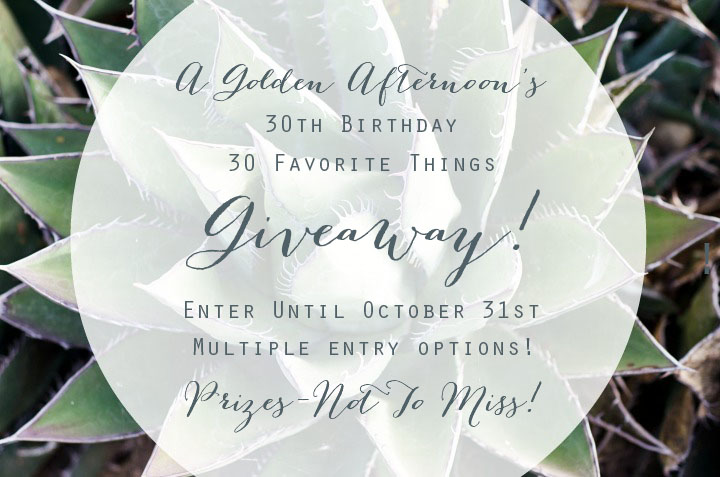 Friends, you have no idea how excited I am to give away 30 of my favorite things to one of you!  Have you ever wanted to get a giant box of amazing gifts in the mail that you didn't pay for?  You can rip open the box and open every item however you want and whenever you want?
Yeah, me too!
That's why, for my birthday, I thought it would be fun to give that gift to one of you guys! Plus, I'm turning the big 3-0 so I wanted to make it special and fun considering I'm not super excited about heading out of my 20s.  Next thing I know it, I'll be 39 and almost 40!  Ok, that's a bit dramatic, but time has been rushing by whether I like it or not.
Does that potential gift sound ok?
I thought so.
Starting tomorrow…for the next two weeks…until my birthday on October 31st…I will be sharing 30 of my favorite things that I will give away to 1 person!!! So excited!!!
What's included in this box worth 100's of dollars!!:
1. Gift Cards to my favorite stores!!
2. My own handmade items!
3. My favorite foods!
4. Art!
5. Vintage items!
6. Great kitchen items!
7. Fun coupon codes from some of my favorite handmade businesses, as well as an amazing clothing store!
And MUCH MUCH more!!  (couldn't resist the dramatic radio commercial sounding end)
Watch out for a post tomorrow about how you can enter and for a very special first item I'm giving away!!
Go to the links below to stay in the loop!  Don't miss out!  I'm SOOOOO excited!
F a c e b o o k  //  T w i t t e r  //  P i n t e r e s t  //  I n s t a g r a m  //  E m a i l