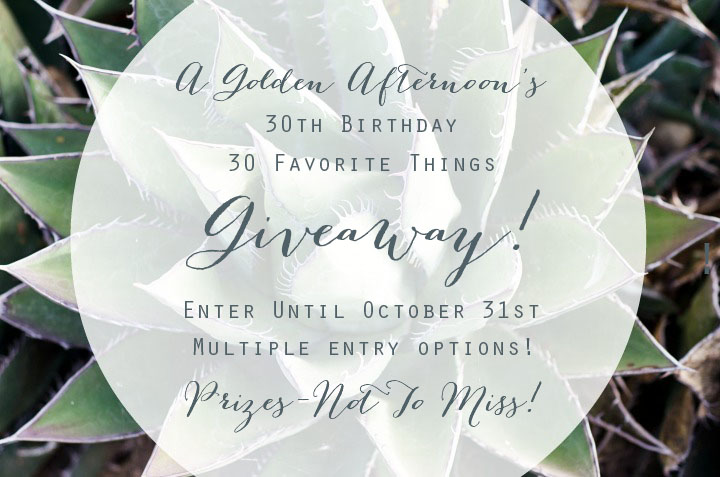 It's finally Giveaway day!  I'm so excited to start celebrating my 30th birthday with all of you!
Turning 30 just got a little easier with your help, so thanks for being here and supporting me!
*Disclaimer: You've seen posts before that look like big advertisements and a "sell out".  You should know I'm not getting paid or getting commissions from anything I mention. Everything included in this giveaway is TRULY one of my favorite things and I wouldn't include anything that wasn't.  Any donated items were out of the generosity of the donor. I want this to be fun!*
Here's how the giveaway works:
1.  The giveaway lasts from October 17th until my birthday on October 31st at midnight.
2. You can choose several ways to enter, using the form below.
3. Every few days, on this page, I will reveal 5 more of the items in the giveaway until all 30 are unveiled! So, be sure to go sign up below using the giveaway form to hear about the fun new items you can win!
4. Winner announced November 5, 2013 and the prize is mailed the following week! Eek!
I give you a HUGE prize option, right off the bat…

Amazing, right?
I am thrilled Tea Collection was kind enough to give $100 to somebody!
1. $100 Tea Collection Gift Card! (My favorite kids clothes.  Softest.  Best quality. The have women's clothes too!)
2. A set of 3 Rifle Paper Company Notebooks (who doesn't love Rifle?)
3. Tortoise Onion Goggles (I use these pretty much every day.  Sadly, I can't cut an onion without them or I cry…literally)
4. Birch print paper straws (Best straws ever.  I can hardly drink anything without one)
5. My own handmade organic lip balm (blood, sweat, and tears went into this, people)
6. A special jar of my own blood orange marmalade made with vanilla and rum! Yum! (Made with the Blue Chair Jam Cookbook)
7. 1 lb. of local Cafe Moto coffee.  (My favorite roastery here in town! This one is my fave…I can only drink decaf and they have the BEST!)
8. Roasted garlic salt from The Salt Farm here in San Diego. (Great salt. Great packaging.  Found in my fave local store Pigment)
9. A jar of locally made Fleur De Sel Caramel from Praline Patisserie (caramel is on the top of my sweets list!)
10. A set of 6 floral-cut mason jar lids in an adorable cloth bag, along with a sweet set of floral paper straws from my friend, Ana of We Love Citrus.  Coupon Code "WELOVEBIRTHDAYS" for everyone to save 20% off anything in Ana's shop until 10/31.
11. 2 GORGEOUS cards from the fabulous Small Adventure artist, Keiko!  (She's a favorite of mine from Renegade Craft Fairs of the past.  My favorites also include her print of North American Butterflies and Flowers)
12. Starbucks Venti Tumbler.  (Can't beat a good tumbler and I use my metal one every day)
13. Medusae Airplant.  (Had to find a way to bring some garden into this box.  Got this one at Pigment)
14. Trader Joe's Sea Salt Caramels (I'm a lover of all things caramel.  I can't help myself with these!)
15. My current favorite dress pattern for little girls: "Sally" dress from Very Shannon! (Can't wait to make this? Buy it here now with 10% off with code "GOLDEN10")
16. Handmade Charlotte stencils for your organizing needs!  (Love the lady who created these. ;))
17.  Rifle Paper Company botanicals label and sticker set. (I use these ALL THE TIME.  They don't print this one anymore.  They also make amazing holiday labels!)
18. A vintage Bing Crosby "Merry Christmas" vinyl.  (My very favorite Christmas album!)
19. St. Helena Olive Oil Company's Balsamic Method Tradizionale.  (Best balsamic you will every have in your whole life. No competition)
20. West Elm's mason jar cocktail shaker. (I got mine at our San Diego store here.  The capacity of this thing is amazing)
21. Gweneth Paltrow's Cookbook "It's All Good" (I'm in love with this cookbook and I'm not a great cookbook user)
22. A set of 6 blue vintage remake mason jars (who doesn't love a good mason jar, plus…BLUE!)
23. & 24. My favorite shampoo and conditioner from Acure ( finally a great smelling shampoo that is organic and ACTUALLY works)
25. to 28. 4 bottles of Scrappy's Bitters for all of your cocktail needs!
29. $5 gift card to Target (Favorite.Duh.)
30. $25 to TARGET because they are that amazing!!!! (Right?)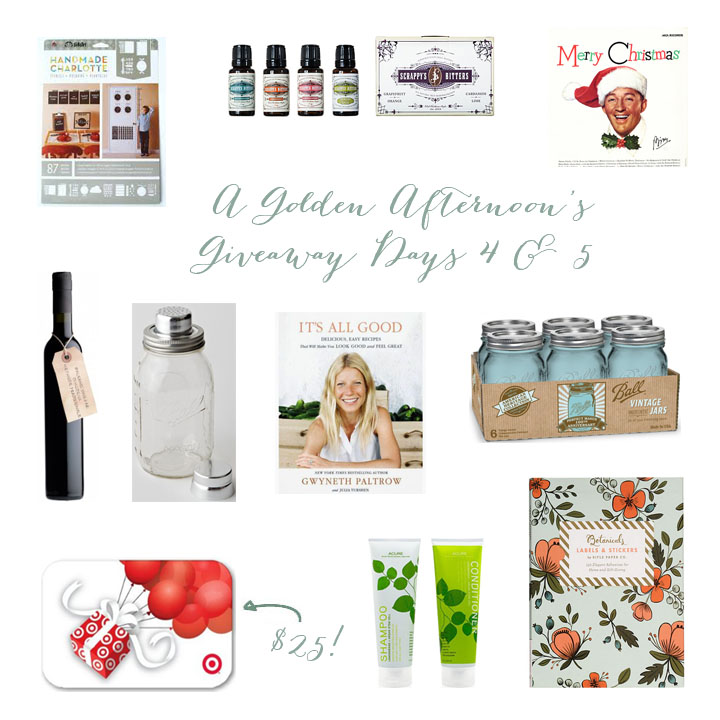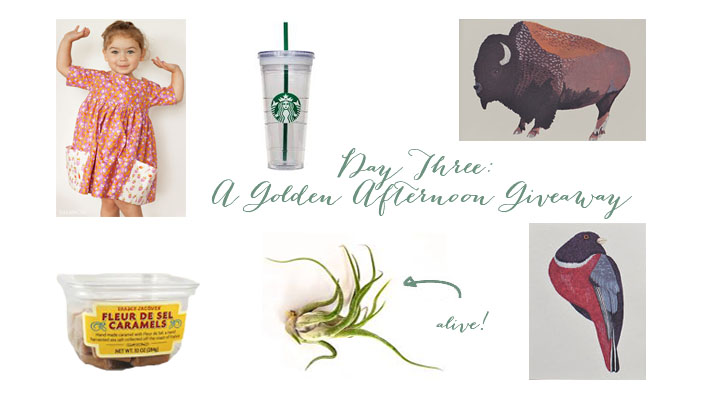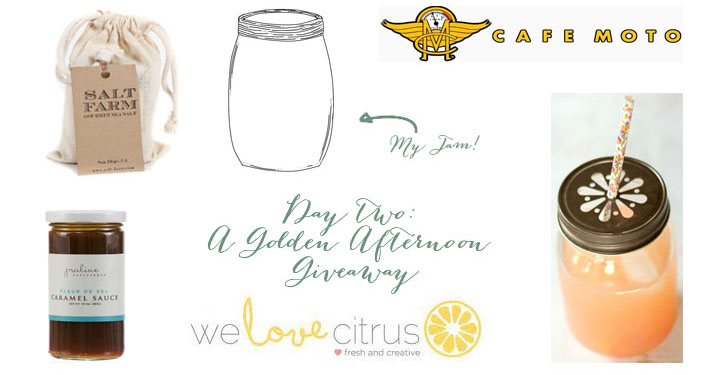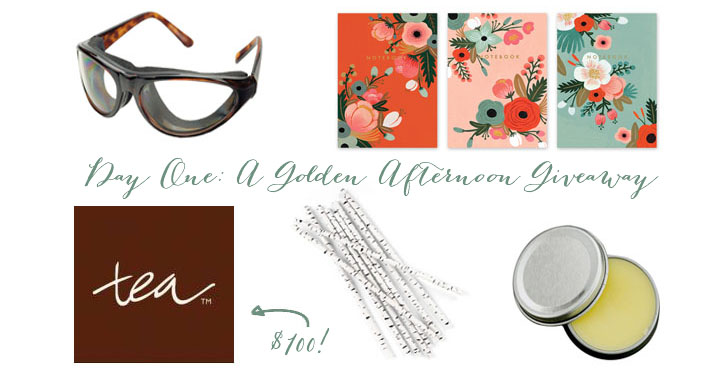 WINNER IS…
AMY SEEGERS!!!
Took my a while to get a hold of Amy. I was just about to pick a new winner when I heard back from her!  Yay, Amy!
Enter the giveaway below and PLEASE share a little birthday love for me and spread the word about my giveaway! Thanks, friends!
a Rafflecopter giveaway