Last weekend we met up with some buddies at Comic-Con.  This is the kind of day you have to plan for a year in advance normally.  People wait in line in 2011 for 2012 tickets, but I got ours by pressing the refresh button 797 times for some tickets they released in February.  Craziness!  I never understood why there was such a draw until now.  It is truly a place where odd things are normal.  It felt very much like Alice in Wonderland because things/people would walk by as if they were normal when really they were dressed like Darth Vader or a giant piece of bacon, just as Alice saw things that were the opposite of the norm in Wonderland.  It may sound weird but for these people, this is the one day where the can be in a place and not be judged for being odd, but embraced.  It's pretty cool.
We also got to enjoy some food from our food truck friends.  I was bummed MIHO gastrotruck was doing a private event.  Oh well.  I had a lobster grilled cheese sandwich (Devilicious) and a lobster club (Chop Soo-ey).  My husband had a breakfast burger with an egg, bacon, and waffle fry on top and some waffle fries with blue cheese.  My friend had the veggie burger on the bottom with the pink beet sauce  (The Green Truck…just found out this is a chain truck with trucks in LA and NY).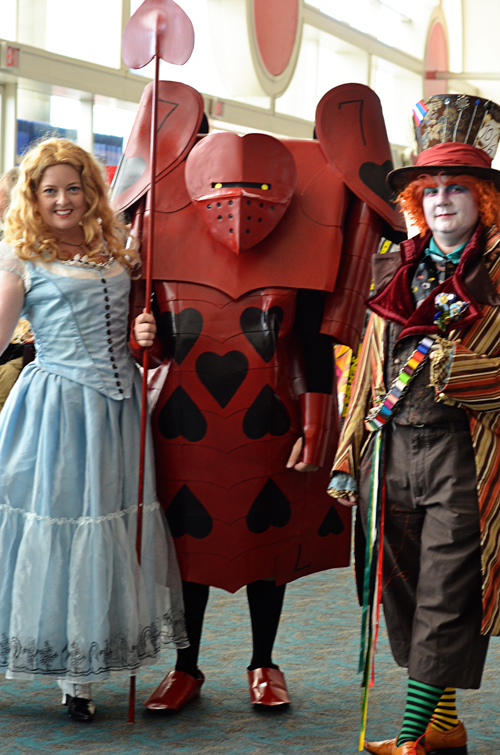 Such devotion to spend this much time on a costume.  I saw them posing for pictures the whole day.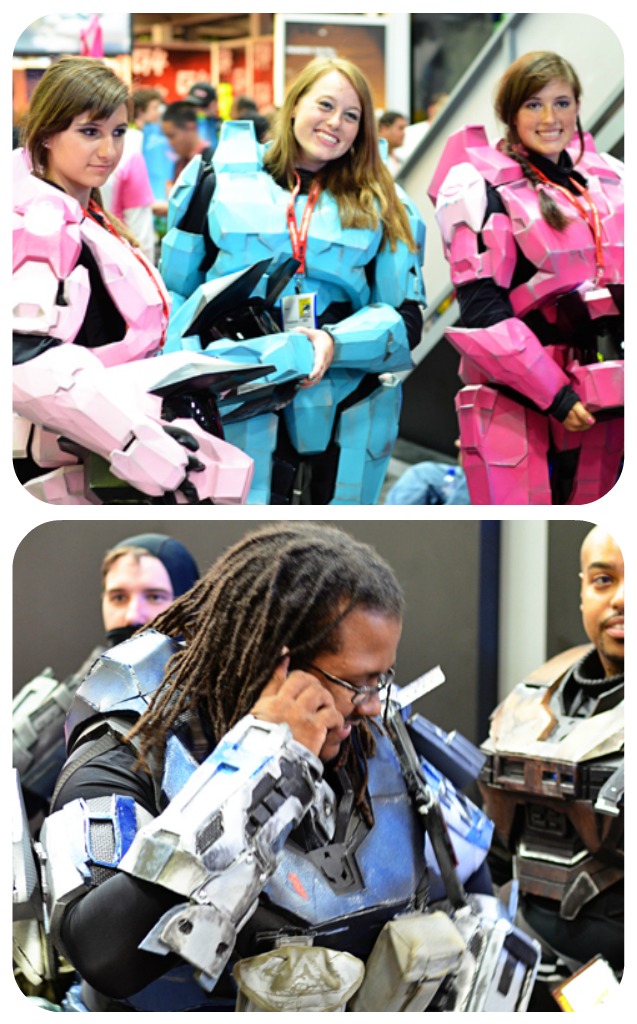 Halo "people" were in full force.  The guy with the cell phone even had a cool compartment in his arm in which to slide his cell phone, that snapped closed after.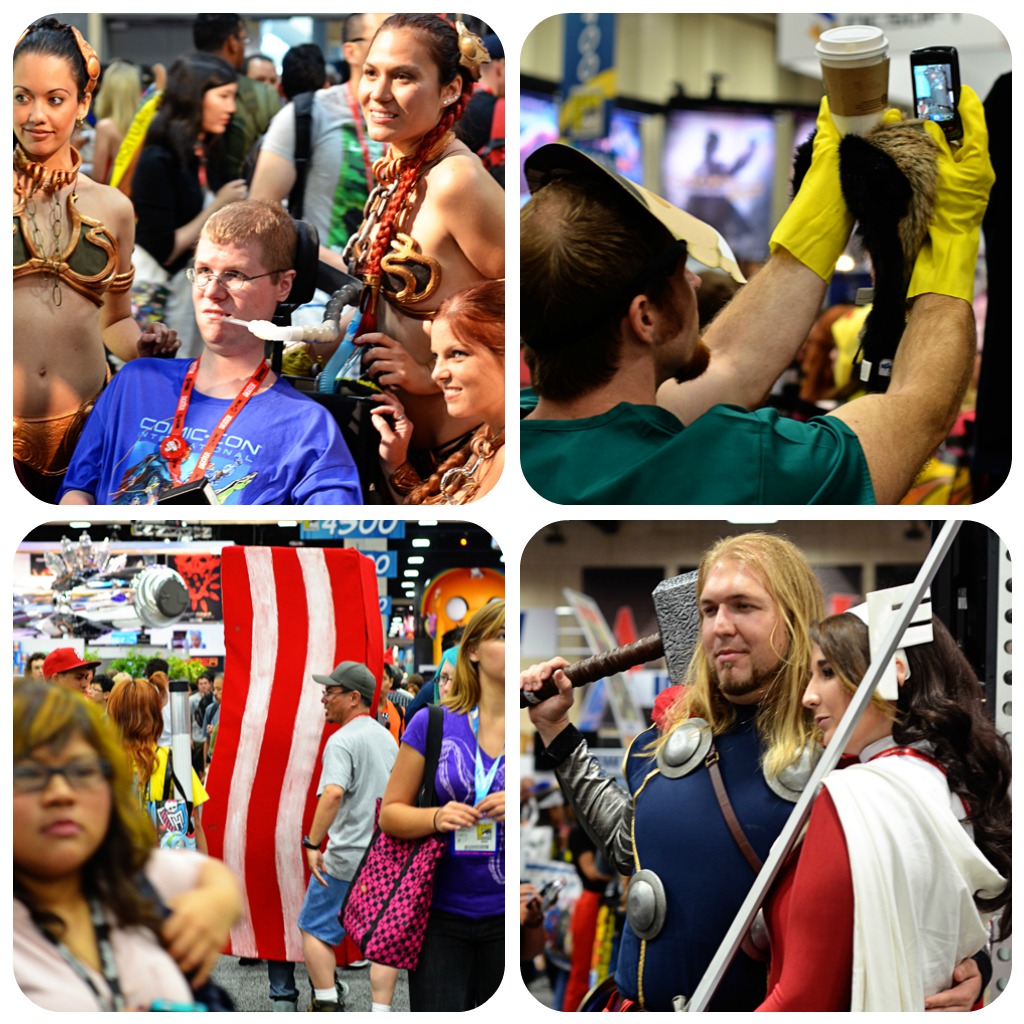 I love the top left photo because it really shows how everyone gets their chance to be normal there at Comic-Con.  So sweet.  I also enjoyed watching the man with the yellow gloves hold his coffee and a ferret whilst trying to take a photo of a cool t-shirt.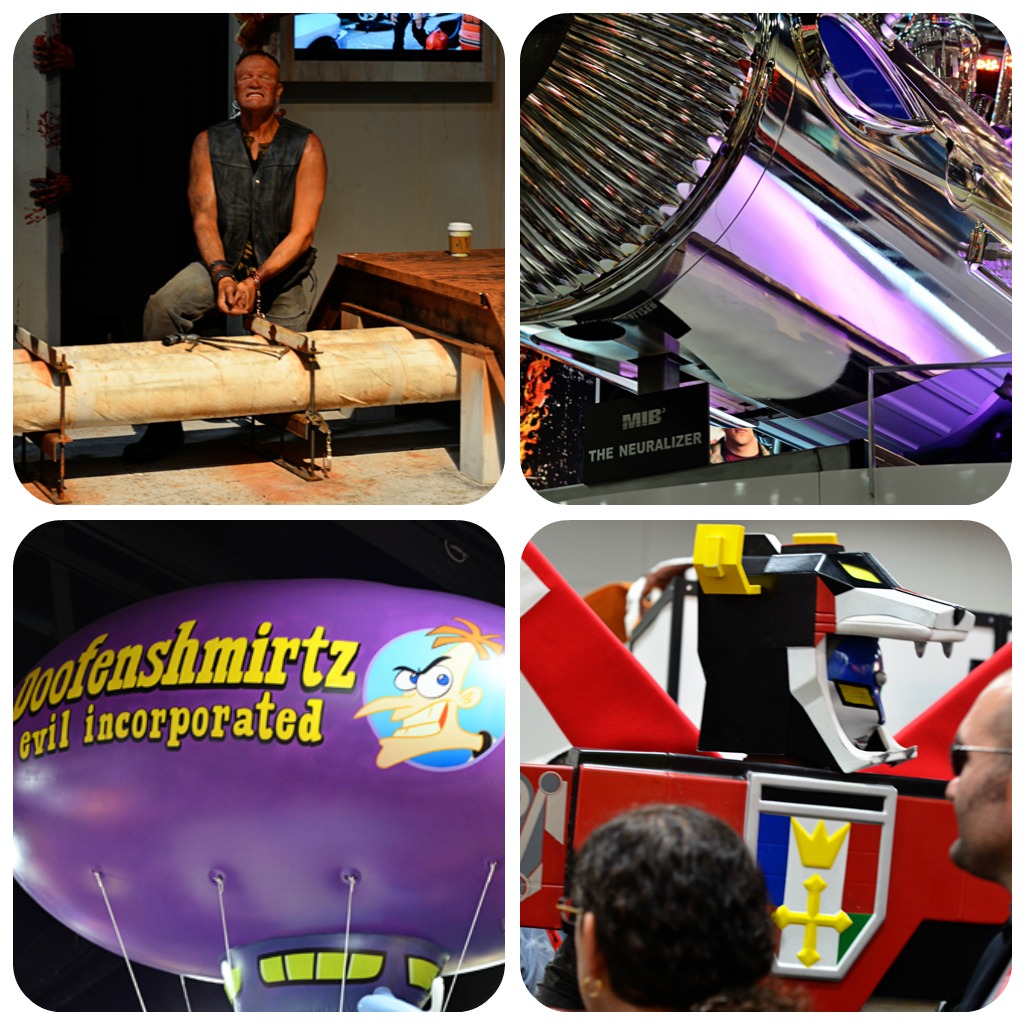 "The Walking Dead" had an interesting set-up with bloody zombies trying to get this guy.  I guess it's a scene from the show.  There was a giant neuralizer from MIB.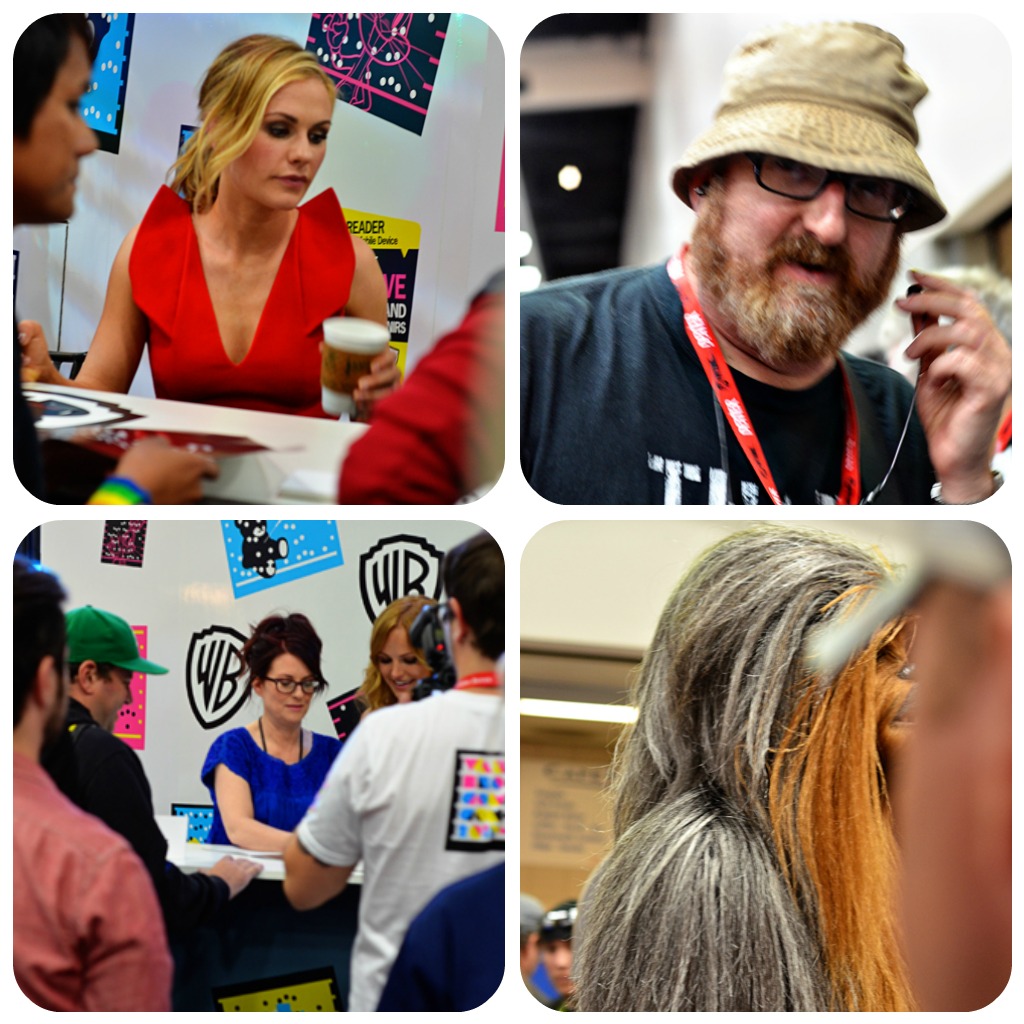 We saw a few famous people.  Anna Paquin from True Blood and originally was the youngest to win an Oscar at age 11 for "The Piano".  Megan Mullally with Malin Akerman (bottom left).  I would have a had a photo of the rare Chewbacca, who apparently lives locally here in San Diego, but my husband's head was in the way…erg.  I wonder what brand of hair product he prefers…looks soft.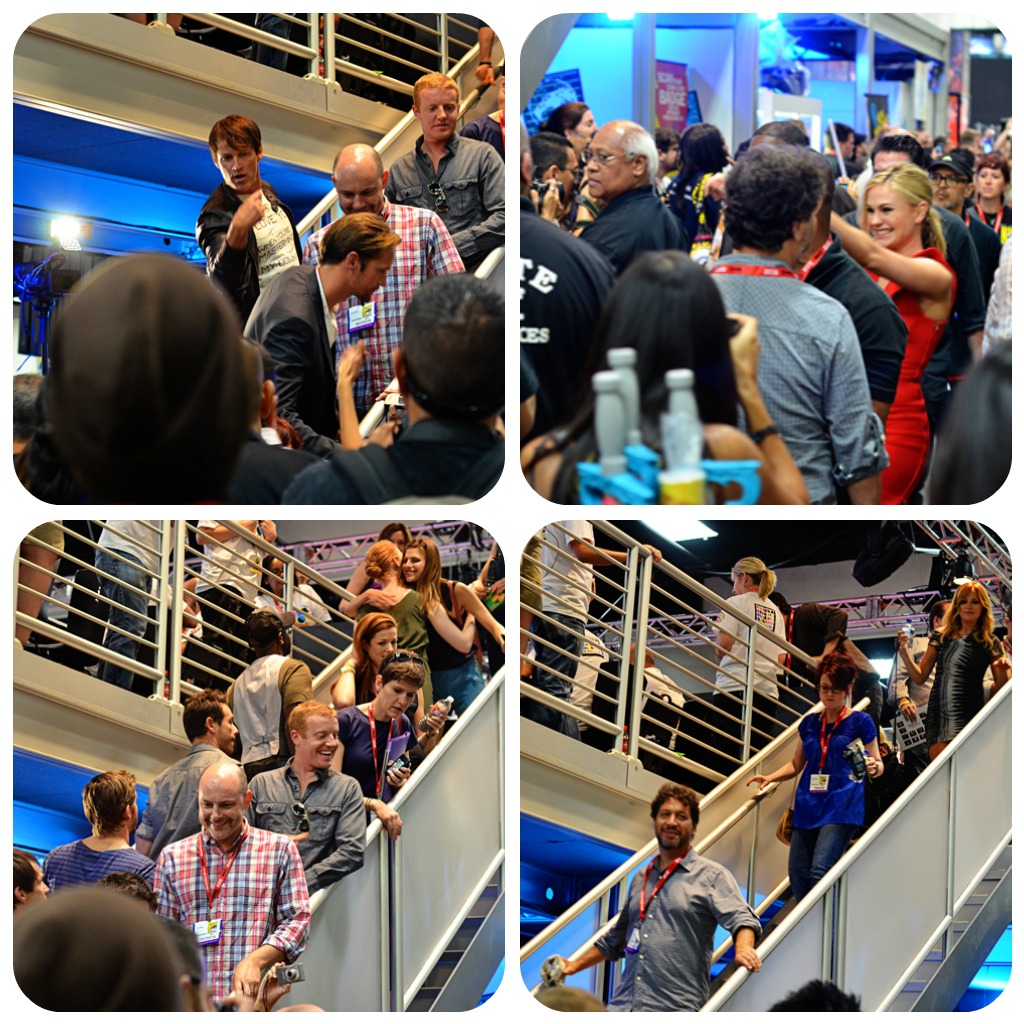 Her we have the cast from "Children's Hospital" come down while the cast of "True Blood" goes up.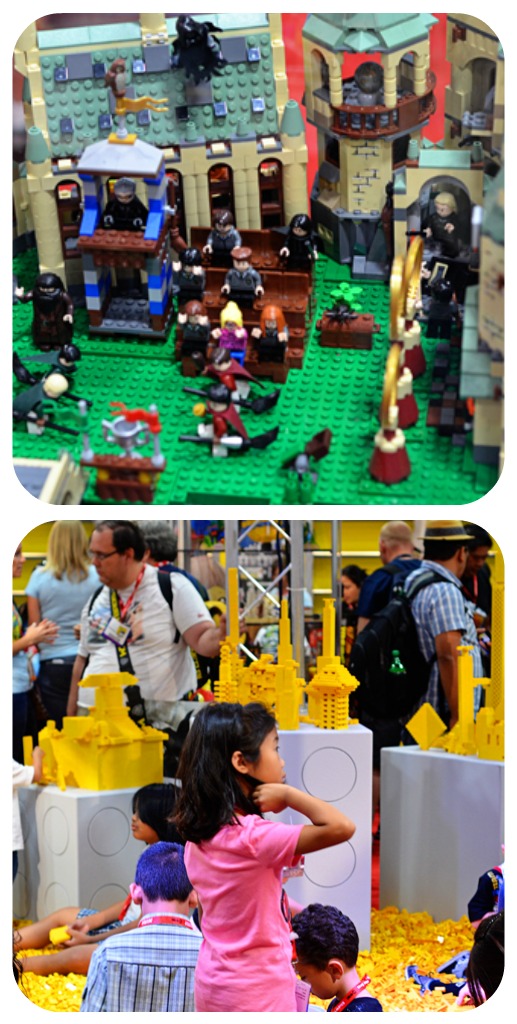 The Lego exhibit.  My kids would have loved to play here but they probably would have gotten lost with the crowds at some point.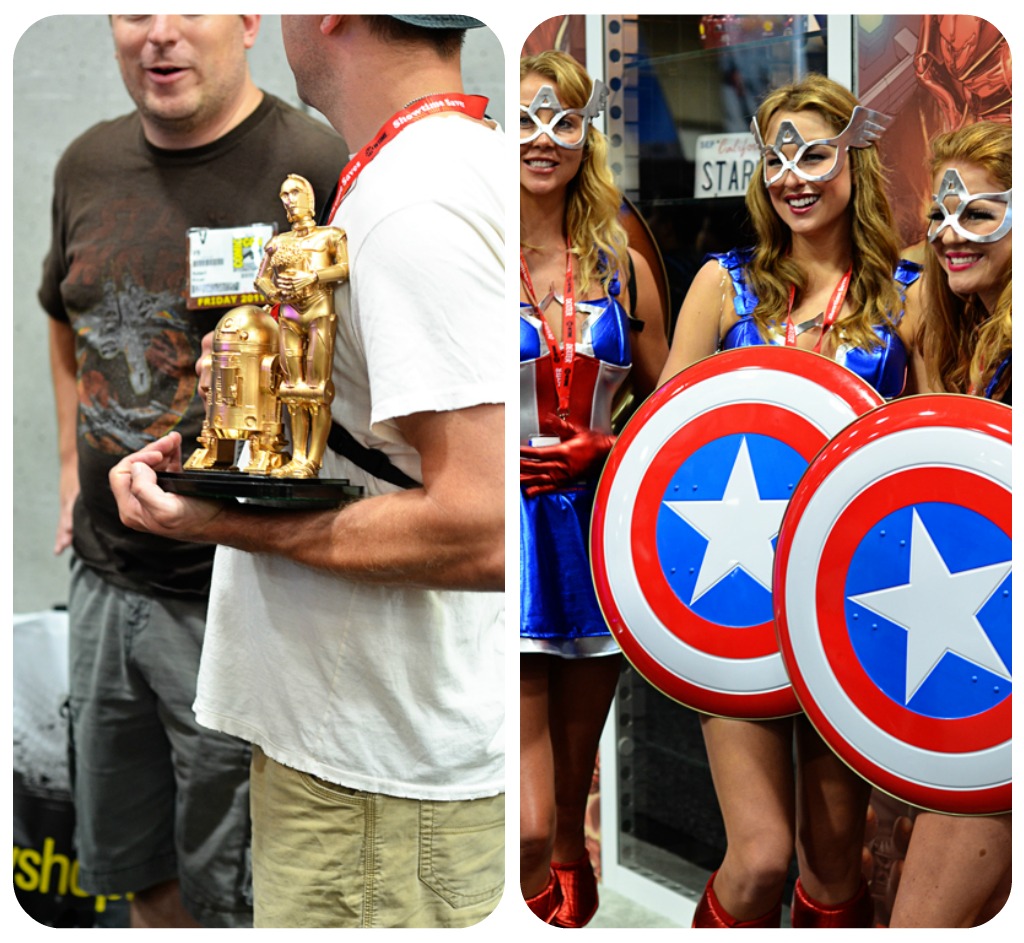 Next year I will be sure to remember to bring my Star Wars trophy and my Captain America shield.  Bummer.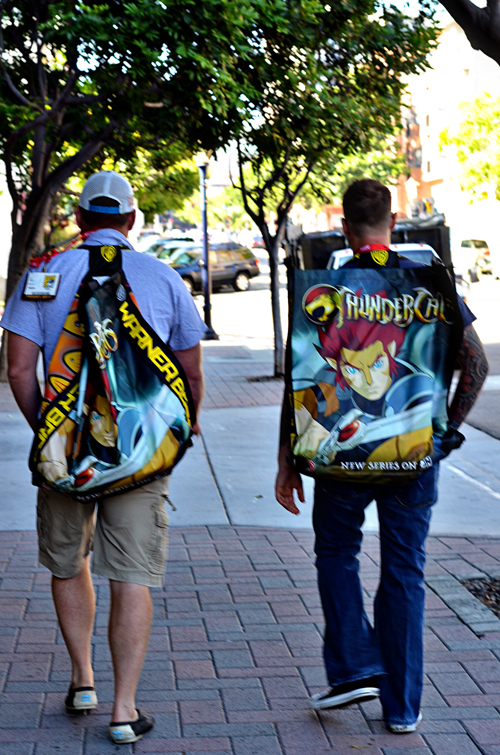 One of my favorite things of the day.  The men with their giant gift bags.  I wish I had focused it properly.  Oh well.