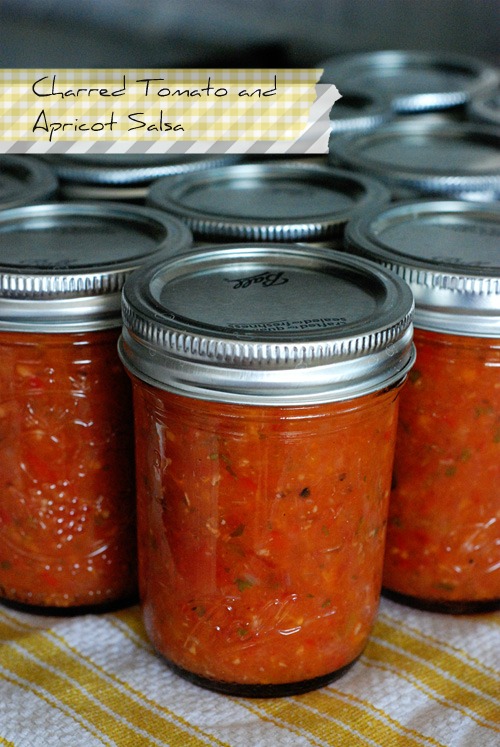 Last year,  the canned item I got the greatest response to (besides pickles, of course) was salsa.  It seems that salsa speaks to everyone.  The cool thing about salsa is you can basically make it however you want.  I have a "gringo" tongue so it's pretty abnormal that I would even stick a jalapeno in it at all…hehe.  What?  You think I make tomato soup, not salsa, eh?  To each his own, I guess.
So, turn some music on before you start this recipe and enjoy…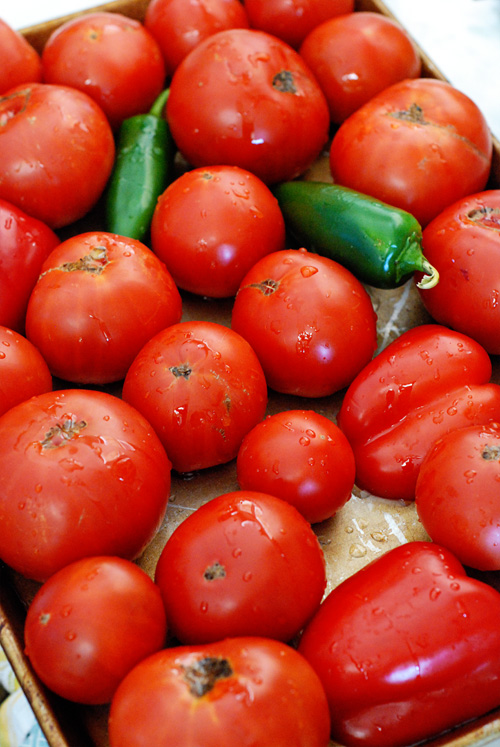 Start with whatever you feel like throwing in.  My sister and I chose local heirloom tomatoes, red peppers from my garden, jalapeno, red onions, garlic, and local apricots.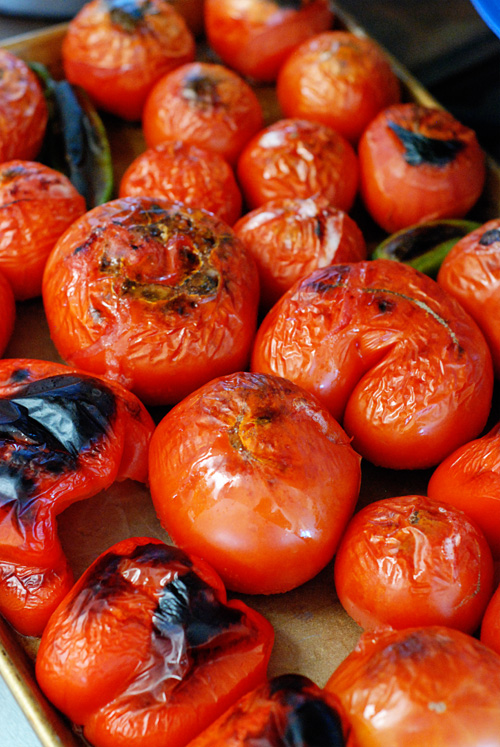 I roasted the peppers and tomatoes together.  In another pan, I roasted the onions and garlic.  The tomato group I drizzled with olive oil and broiled for about 10 minutes or until the are charred :).  The onion group I drizzled as well, added salt and pepper, and roasted for 45 minutes.  I had a lot of onions so you might only need to roast a small batch for 20 minutes.  The apricots I did the same as the tomatoes.  Again, if you are making a small batch, you could probably fit it all on the same roasting pan.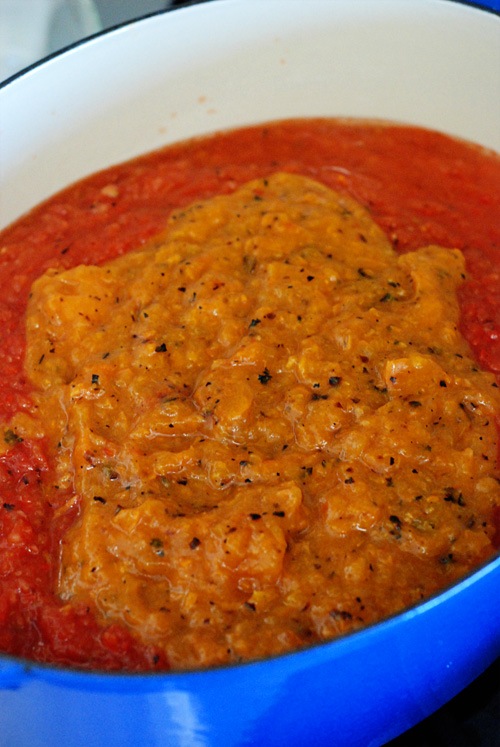 After the charring and roasting, we blended both until evenly chopped to our desired consistency.  For me, I wanted something that wasn't pureed but not too thick.  You know, the kind of salsa where you scoop it and it stays on, chunks aren't falling off. but it's not dripping.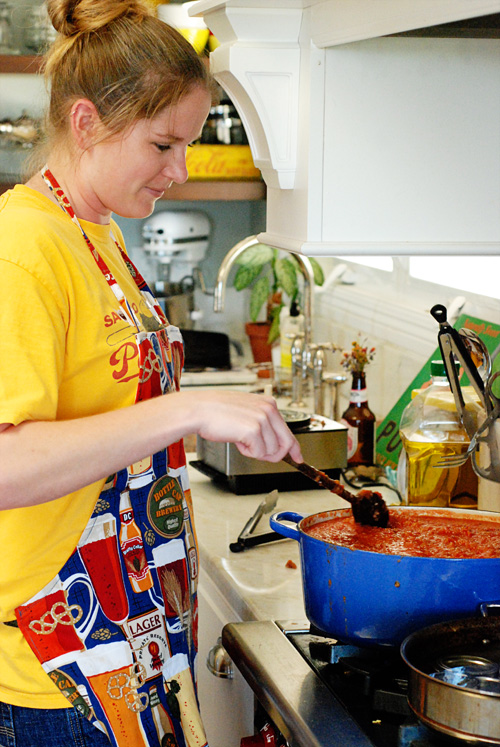 My sister in her awesome apron she made from a not quite as awesome men's shirt.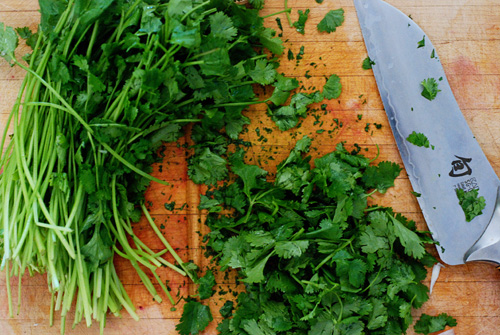 Chop up the cilantro and toss it in.  Salt and pepper the salsa while you're at it.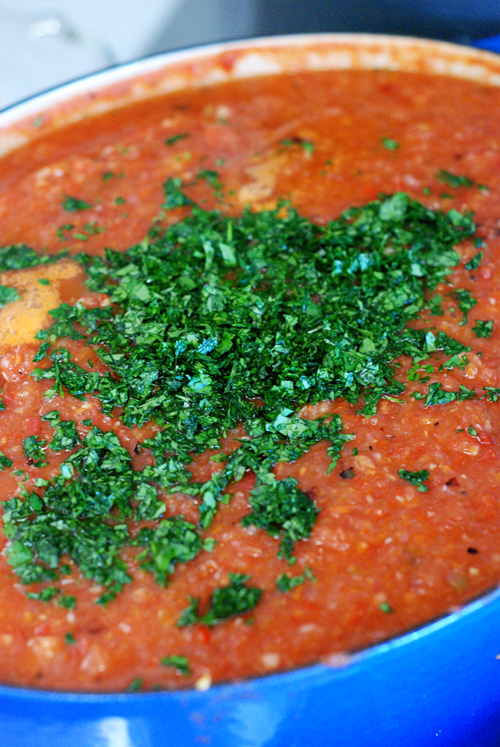 That looks much better now.  Cook the salsa until it is simmering, then cook for 10 minutes longer.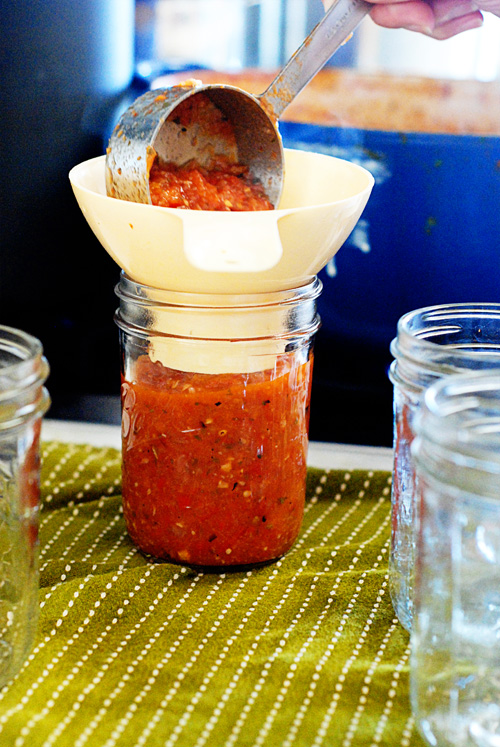 Fill the jars with a 1/2 inch head-space and process them for 10 minutes.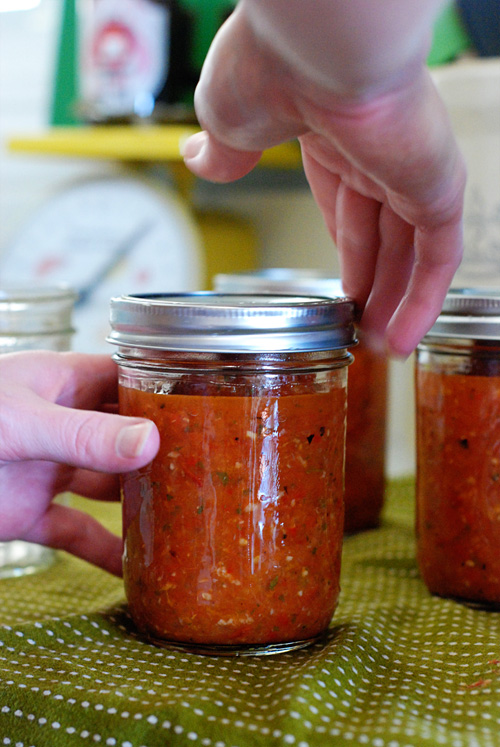 You have to work quickly and only fill as many jars as you will be putting in the pot.  The average stockpot will fit 6 half-pint and 4 pint size jars.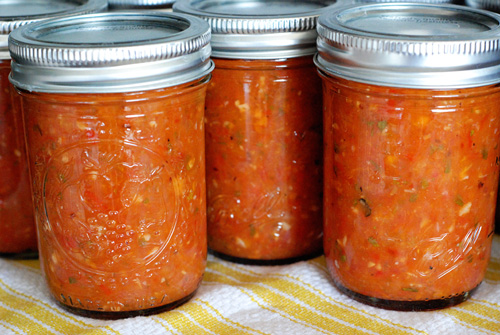 We were super happy with the results and immediately broke out the chips!
Christmas presents?
Charred Tomato and Apricot Salsa
6 heirloom tomatoes
1 red pepper
1 jalapeno
4 apricots
1 red onion
1 head of garlic (yes, I really love garlic)
1 T cilantro
olive oil, for roasting
salt and pepper, to taste
Share with friends and if there could be a pool or beach that would be perfect.