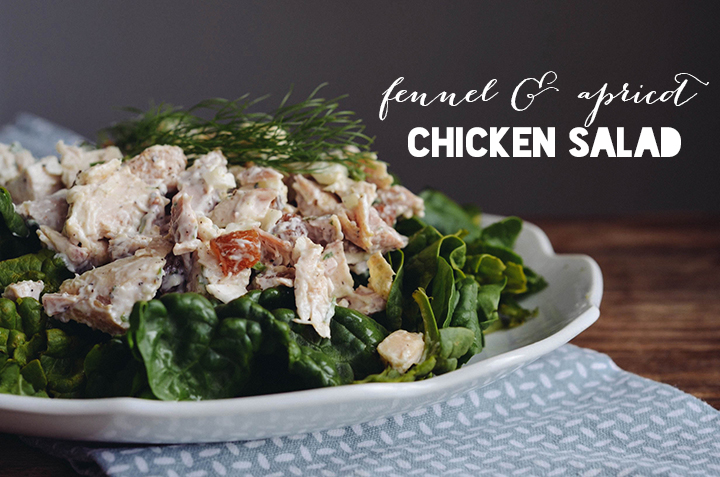 Around here, we are always looking for something yummy to make at lunchtime.  My husband works from home (although we are in a season of him working with some clients away from his home office right now) so I often have to be creative with lunches so that we aren't eating the same things all the time.  It's not that it's NECESSARY to have a constantly changing menu, but in doing so, I feel like we always find new recipes we enjoy more than the last ones.
This chicken salad was the product of leftover roasted chicken, a bulb of fennel, fresh herbs, and some dried apricots we had lying around.  It was AMAZING.  There is something about the unexpectedly good that really makes my day. Plus, this dish is perfect for springtime since fennel is still found at the farmers markets! The sweet dried apricots and fennel work together so nicely with the chicken in this dish.  Chicken isn't boring unless you make it boring.
Bonus:  the kids loved it too.
Fennel & Apricot Chicken Salad
4 cups chicken, roasted and cubed
1/2 cups fennel, finely chopped
1/2 cups dried apricots, chopped
2 Tablespoons chopped parsley
2 Tablespoons chopped chives (or rosemary!)
1/2 to 3/4 cup mayo
salt and pepper, to taste
fennel frond for garnish
Combine all chicken salad ingredients in a bowl and season to your liking.  Garnish with a piece of the fennel frond you saved from the fennel bulb.
Hint: I keep the fennel fronds in a jar of water in my fridge for future uses like roasting salmon.
San Diego food sources:
Descanso Valley Farm's chicken
Maciel Family Farm's fennel
Smit Orchard's dried apricots (seasonal)
Suzie's Farm's spinach, parsley, and chives
Eat Local!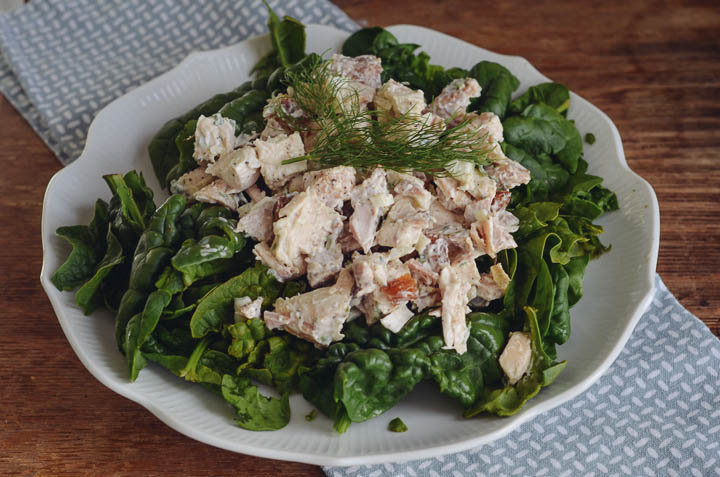 Stick around and find us on:
F a c e b o o k  //  T w i t t e r  //  P i n t e r e s t  //  I n s t a g r a m  //  E m a i l