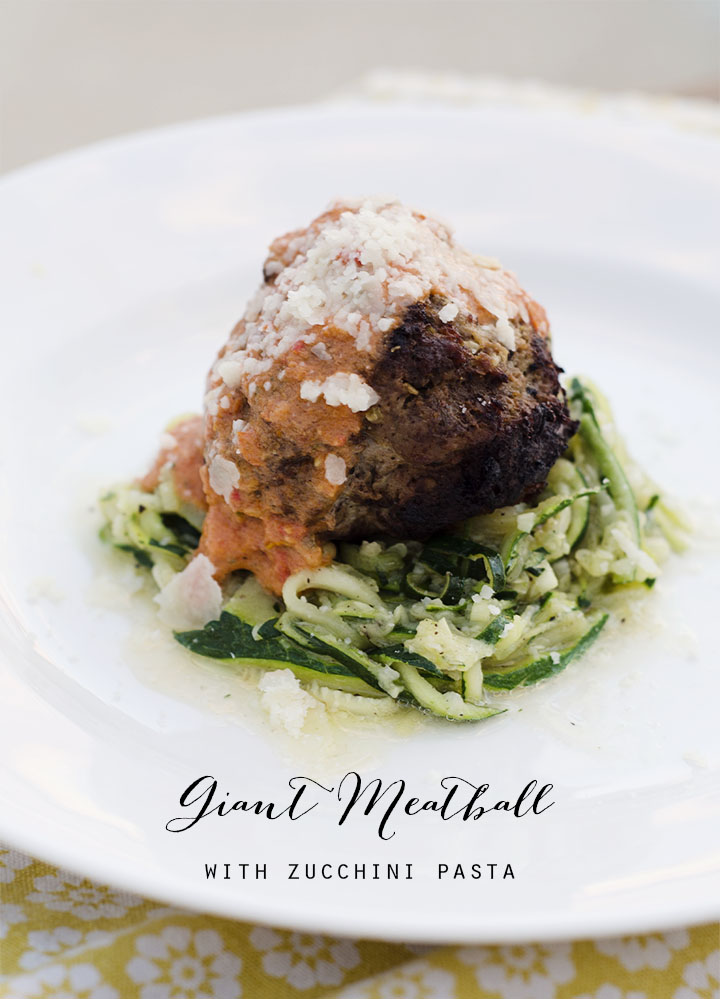 The day my boys fell in love with giant meatballs was at one of our favorite restaurants here in San Diego, Cucina Urbana.  My middle guy, Jack, ordered it at a bargain price of $6.50 and it was served in a little cast iron skillet.  He was in love after the first bite.  He kept asking me to make a giant meatball at home so finally I said yes!  Please forgive my inability to make a meatball like like anything more than a ball of meat in this picture – kinda hard to avoid when the meatballs are gigantic.
We added zucchini "pasta" and haven't looked back.  We haven't been eating pasta very much for the last few years since we realized pasta tends to be a hunger-zapper, leaving less room for nutritious foods – like zucchini!  I let my kids have it every once in a while when my husband is out-of-town. Although, it's usually rice or quinoa pasta. ;)
We all fell in love with this dish.
Giant Meatballs
(based on the Scottos' Meatball Recipe)
2 slices of bread
1/2 cup milk
2 1/2 pounds of ground chicken or turkey
1 white onion, minced
3 tablespoons garlic, minced
3 tablespoons parsley, chopped
2 eggs
1/2 cup Parmesan cheese, grated (optional) plus more for garnish at the end.
salt and pepper, to taste
Preheat the oven to 400.  Soak the bread in the milk and blend with a fork.  Combine the remaining ingredients.  Shape the meatballs the size of a baseball.  Place them on a baking dish and cook for 35-45 minutes or until cooked through. Cooking time will depend on the oven.
(eliminate bread, milk, and cheese for Paleo…try not to cry while doing so!)
While the meatballs are cooking, prepare the…
Zucchini Pasta
4 large zucchini, julienned lengthwise with a mandolin
6 cloves of garlic, minced
salt and pepper, to taste
oil for pan
Parsley for color, optional
"Slice" the zucchini using a mandolin.  Holding the zucchini with the side on the mandolin, use the julienne blade to make the "pasta" shape.  If you are using organic zucchini, like me, the pieces of "pasta" will not be as long and flowing as you might see in other recipes for this dish.
After the zucchini is cut, saute it in a pan with the rest of the ingredients, just until cooked through (where you can easily break a piece with your fork but it's not mushy ;)).  This will take 15ish minutes.
Fresh "almost raw" Tomato Sauce
5 large heirloom tomatoes
6 cloves of garlic, roasted (my fave) or store-bought paste is best for a mellow flavor or 1 teaspoon of garlic powder if you are short on time.
1 tablespoon fresh herbs (parsley, basil, oregano, and/or chives)
2 Tablespoons extra virgin olive oil, optional
salt and pepper, to taste
Blend all ingredients in a blender until smooth, leaving as much texture as you'd like.  Heat in a saucepan, just until warm and season again, if needed.  It will not taste exactly like jarred tomato sauce because the tomatoes are raw and not cooked for hours, but it's sooo much better for you!
To make this whole dish, plate individually right before you sit down to eat.  place the "pasta" on the bottom with tongs, turning the tongs as you place it on the plate to create a perfect little nest for the meatball.  Add the giant meatball, then the sauce, and the Parmesan cheese if you prefer.
Enjoy this healthy meal because you won't have the weight of all of that pasta dragging you down and your kids will still get to eat "pasta".  Also, I apologize for the excessive use of quotation marks but I don't want anybody disappointed when they come to this post for pasta and instead they find "pasta"! ;)
Stick around and find us on:
F a c e b o o k  //  T w i t t e r  //  P i n t e r e s t  //  I n s t a g r a m  //  E m a i l