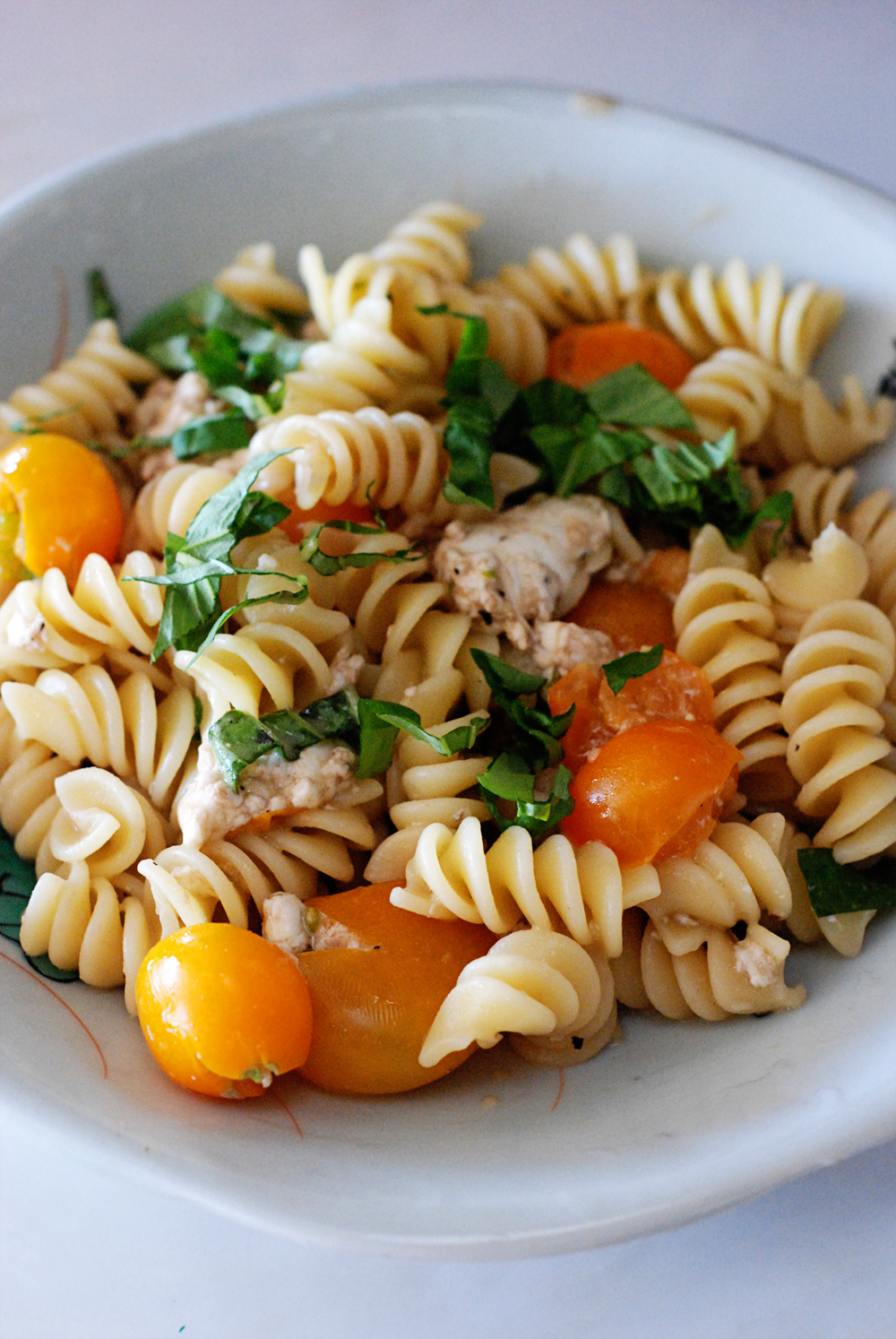 I think the number two question I get from people related to food and cooking is, "Do you have any easy and fast recipes you make for a just a regular night at home with the family".  YES!  I find most of what I cook to be easy but I think what people are looking for is something to make in 30ish minutes with only a few ingredients.  Is that about right?  I give you:  Pasta Caprese!  I thought of you all who have asked me that question because it came together with some things I have leftover from a big dinner and was super easy.  We don't really eat pasta anymore for health reasons, but every now and then I like to break it out when it's just the kids and I at home.
Pasta Caprese
1 box of rotini pasta, cook until al dente
2 cloves of garlic, pressed
2 pints of cherry tomatoes, squished
1 large handful of basil, chopped
4 balls of burrata cheese or mozzarella cheese*, torn or cut into pieces
1/4 c. extra virgin olive oil
salt and pepper
dash or two of walnut oil
many dashes of aged balsamic vinegar or a reduction
With pasta, mix garlic tomatoes basil, cheese, and olive oil until combined.  I mention the tomatoes are squished because it's a fun way for kids who can't use knives to help with dinner.  They simple hold the tomato down in the bowl and squish.  Get ready for giggles and tomato seeds gone wild.  Season with salt and pepper to your own taste.  Add the dashes of walnut oil and balsamic vinegar.  Remember the pasta spreads the flavor out a bit so don't be afraid to add more seasonings.  This is a VERY simple dish for a nice summer evening.  It could be very much enjoyed with a nice glass of Sauvignon  Blanc, if you choose.  Make it good wine though, not that cheap 5 buck stuff :)
*Burrata can be found at your local cheese shop.  San Diegans' can go to our awesome local store called Venissimo!  Whole foods and Trader Joes have it but it is not nearly as good.  The one I prefer to buy is made with love in LA by an Italian family and is brought down here.  I've now seen it popping up at our local farmer's markets, but most sellers (even cheese stands!) haven't learned quite yet that it is very delicate and goes bad after only a few days so selling it in that condition is a bad idea :/  If this all sounds like too much work, you can either trust me that the real stuff is just THAT good and better than anything you will ever experience in the mozzarella family, or you can just be regular and buy mozzarella.  Your choice really.  No pressure.