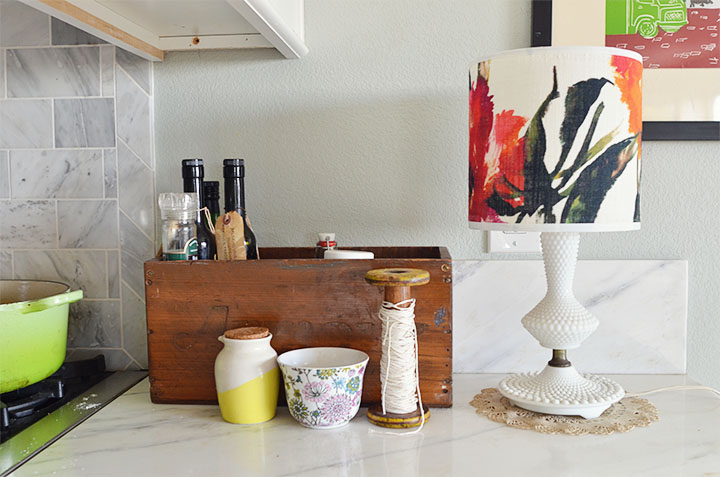 Last January, when I went to AltSummit, I was so thrilled to be able to take a class with Amanda Brown on making a lampshade (that's mine above!).  She provided the materials and took us through, step-by-step, how to make it.  It was definitely my kind of project.  There's something really exciting to me about learning a new skill and conquering a project that is on my list of things I've always wanted to make.  Is anyone else that way?
Last week, I received Amanda's new book in the mail, "Spruce: The Step-by-Step Guide to Upholstery and Design" from the Spruce team right before I left for vacation.  I was super excited to tackle an upholstery project as SOON as I got home.  I went to Joann's (with multiple coupons), grabbed supplies, and immediately began deconstructing the mid-century sewing chair (I LOVE the frame of but not the plastic, off-colored covering).  She shows you how to easily deconstruct in the book as well. ;)
Then, BAM. Nutcracker. Piano recital. Homeschool Handicraft Fair. Family in town for Wedding on Saturday. Christmas decorating. School.  Cleaning.
So, this is what my chair looks like right now.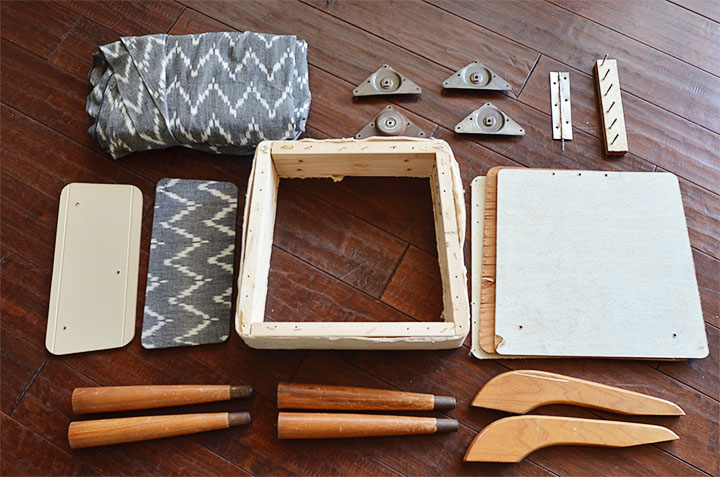 I was sitting on the floor of my living room and I suddenly stopped and said, "What in the world am I doing?!".  Not a great week for this.  Sometimes I push myself too far, because I'm so ridiculously excited to work on a project.  Sometimes I don't say "No" when I should.  I didn't make that mistake this time.  This project can wait until after the holidays.  "Good choice", I said to myself (please tell me you talk to yourself too?).  The first week in January is my time-frame goal for this project.  I feel good about that.  Setting goals and making lists are the two best ways to accomplish what you want to accomplish in life…and also in upholstery projects!
Now, if I hadn't been given this book, it would totally be in my amazon cart right now, ready for purchase.  I really love it.  I wouldn't share it with you if it wasn't amazing or something I would buy.  We all need a little more step-by-step in our lives and Amanda rocks the DIY upholstery scene in this book. I've never seen a book like this for upholstery. Here is a trailer for the book.
Have any DIY ladies or gentleman on your shopping list?!  They will love this book.  I'm so excited I get to give away a copy to one of my readers…YOU!!!  All you need to do is leave a comment at the end of the post about what you would love to have re-upholstered in your home and you get an entry!!! (U.S. only) The contest ends on December 11th, 2013 and the winner is announced on December 12th, 2013!  If you can't wait to win or you just need this for yourself right away, go here to purchase.
After you enter in the comments below, be sure to go to Facebook and enter Spruce's Ugliest Chair Contest here for a chance to win a hand upholstery kit, $200 worth of fabric, Amanda's personal advice for your chair, and a signed book!  You can check out my picture over there as well to see which chair is my ugliest! ;)
Here are a few peeks inside for my visual friends (pardon my gardener's hands)…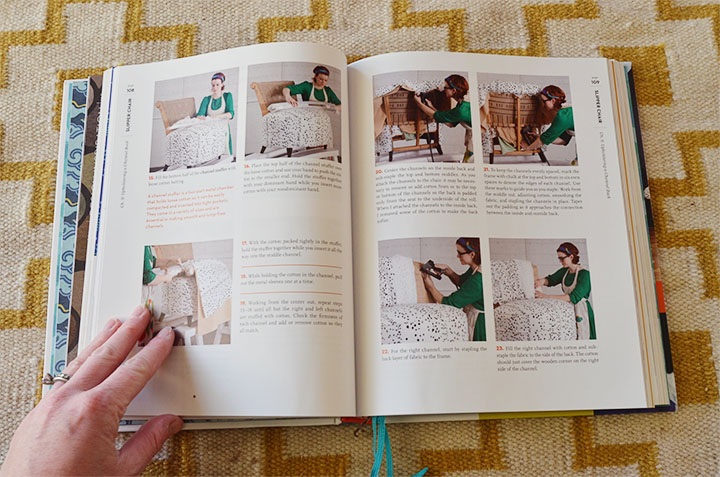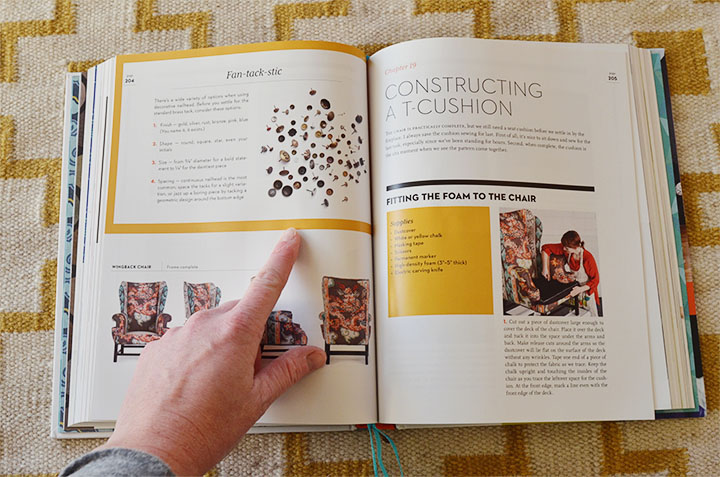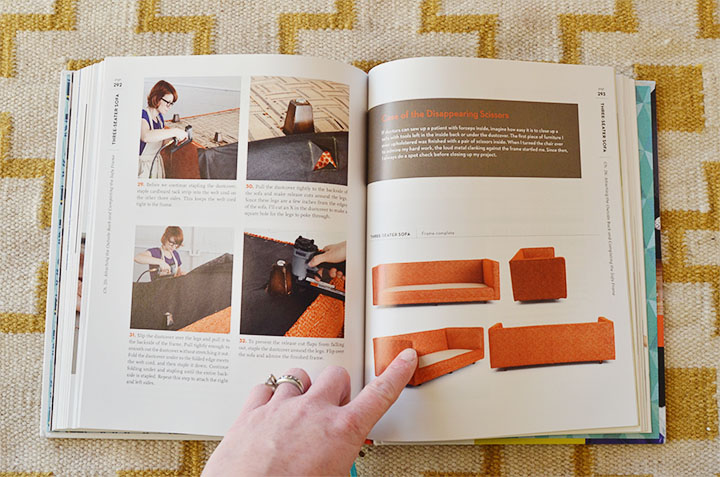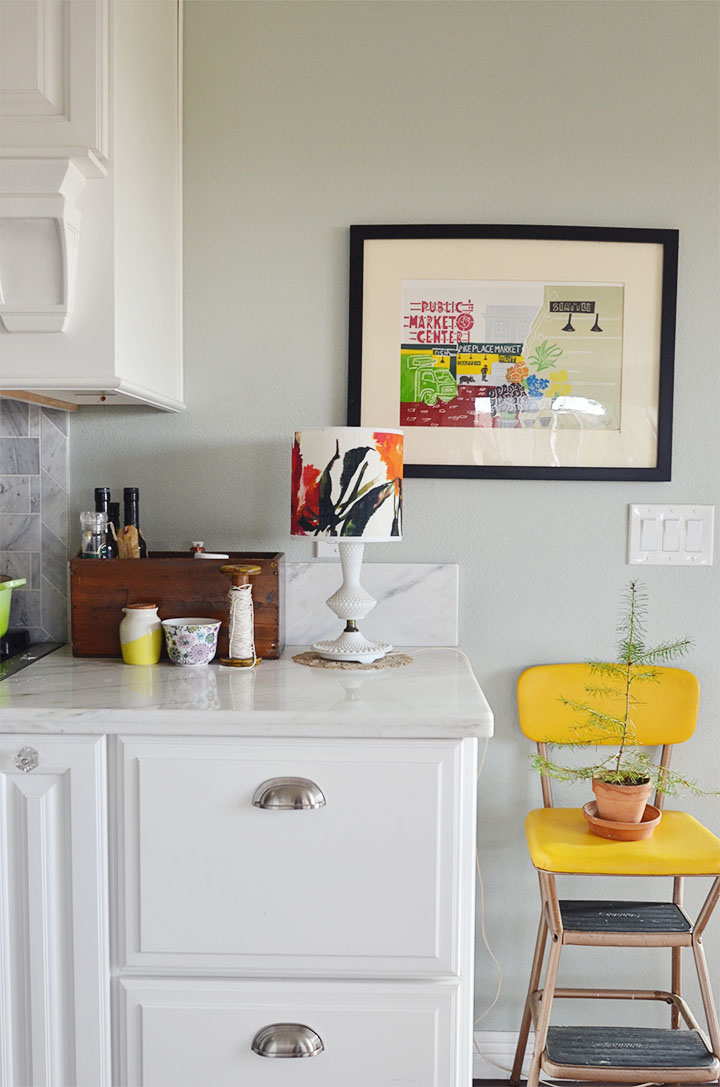 Comment below to win a copy of the book for you or someone on your Christmas list, then head over to Facebook to enter the Ugliest Chair Contest!
Click below to follow us on:
F a c e b o o k  //  T w i t t e r  //  P i n t e r e s t  //  I n s t a g r a m  //  E m a i l