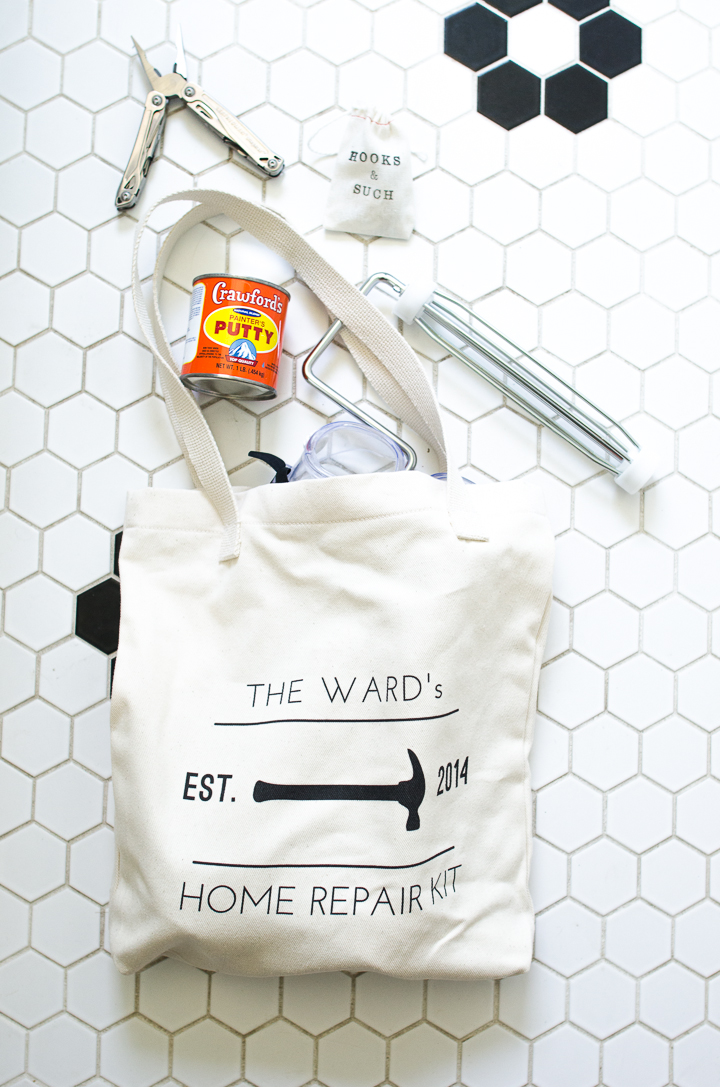 My Mom is the best gift giver.  Everyone knows it.  She always has the most thoughtful ideas, which also happen to be completely practical.  It's amazing.  Whenever a friend and family member is getting married, my Mom patiently sets aside items for her traditional wedding shower present.  I love watching the look on each recipient's face as they uncover the thoughtful items to make their new home equipped and ready for ANYTHING.  Out of MY box, the biggest surprise item was a box of Christmas tree hooks.  Who knew that we would buy ornaments for our first Christmas tree and they wouldn't have hooks on them? Sheesh. Mom's box to the rescue!
As soon as the new Makr app came out (download here), I knew EXACTLY what I wanted to make: a smaller version of my Mom's special kit.  I decided to put a spin on the idea and just make it a DIY home repair kit.  Also, our Worship Director at Church is getting married this weekend, which makes the timing perfect for making a gift!  The tote is perfect to use because it can hang right inside of your front closet.  Plus, the app let's you personalize the tote which is a win win. ;)  You can also design tote bags, t-shirts, and even temporary tattoos (if that's your thing). If you used the Makr ipad app, you will find this app just as easy to tinker with.  I have told my sister and many of my friends to use Makr because I really do love it.
You know how excited I was when Makr arrived on the scene with a quick and easy way to make gorgeously designed labels for my DIY champagne cocktail kit.  Remember that?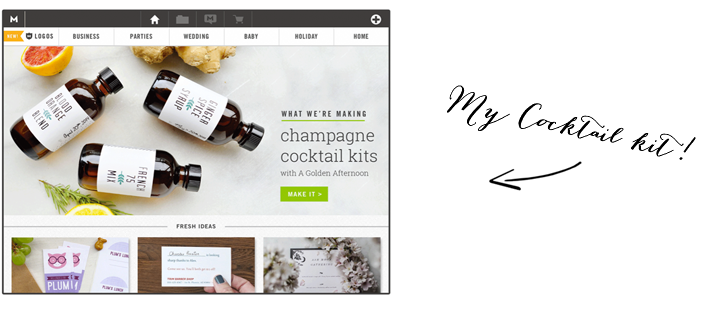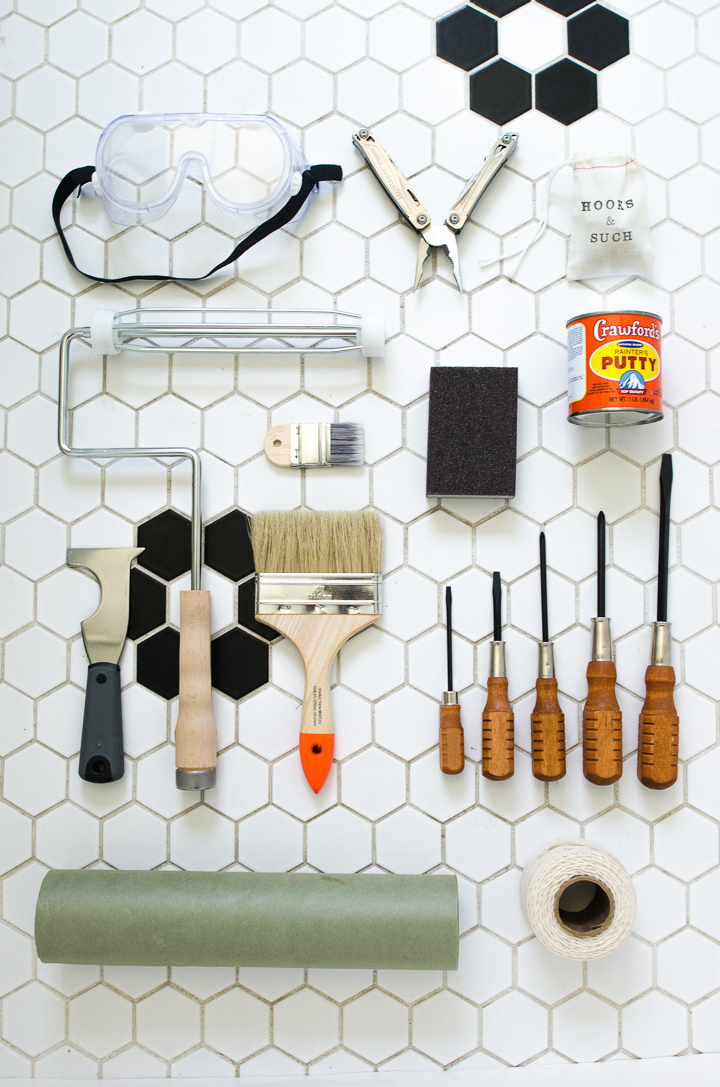 When making your kit, try to look for natural materials and durable items made in the USA (handmade is even better!), as opposed to plastic tools that will break next week. I found most of these items at Home Depot or my local Sherwin William's Paint Store.  Here's what I put in my DIY Home Repair kit:
1 Makr tote (designed and purchased here)
1 paint roller
1 paint brush
1 mini touch-up paint brush
1 recycled paper drop cloth
1 putty tool/ can opener combo
1 sanding block
1 can of Crawford's painter's putty
1 set of wooden screwdrivers (found here)
1 roll of natural twine
1 Leatherman
1 bag filled with thumbtacks, some picture hanging kits, and a ceiling hook
1 pair of safety goggles
Not pictured:
1 pair of leather gloves
1 measuring tape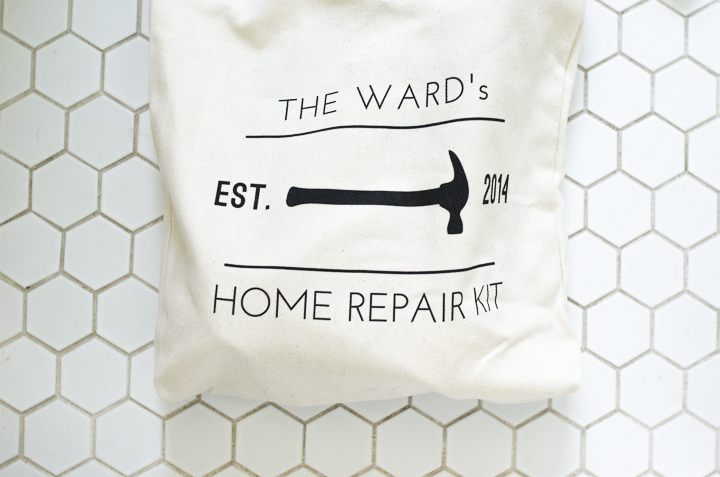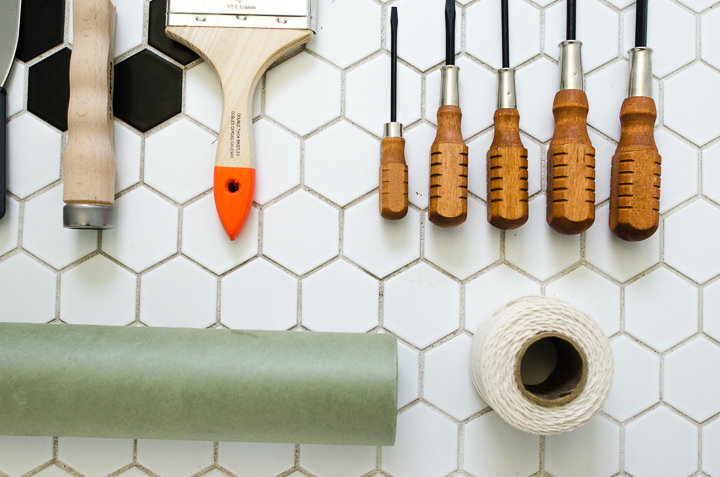 Here are some other fun things we made with the app, including our first EVER design for our little backyard farm that says "Backyard to Table" (see the picture below)! Faith was excited to have her very own tote designed after her favorite chicken, Susan.  The tote has written what Susan walks around the yard proclaiming EVERY DAY.  Remember, you can buy any of my designs here.
Click below to follow us on:
F a c e b o o k  //  T w i t t e r  //  P i n t e r e s t  //  I n s t a g r a m  //  E m a i l