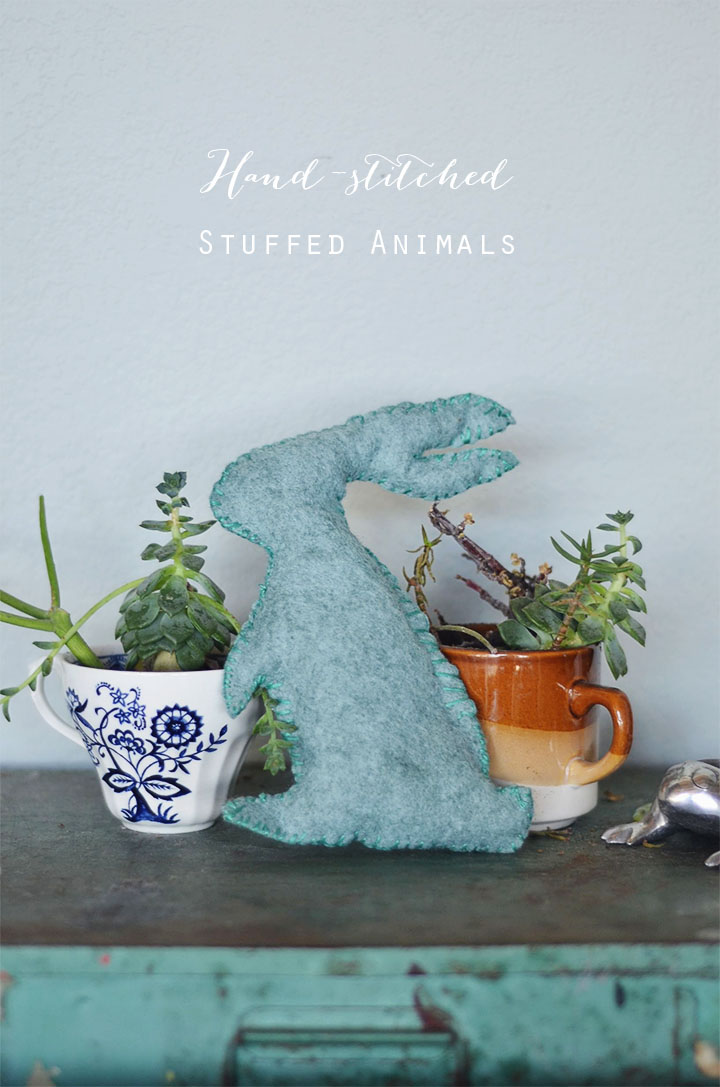 Last year, Faith wanted to make something special for my Mom.  Faith picked the shape, color, and whole project itself.  There's no stopping her creative mind sometimes!
What you'll need:
2 sheets of felt, any size.  Mine were 8×10 (this project can be as large as you like)
paper for printing an online silhouette
stuffing materials (can be cotton balls, filler, extra fabric, or anything really!)
embroidery floss for enclosing
1. We hopped online together and she chose a rabbit shape.  For projects like these, I simply google "public domain" followed by whatever object I'm looking for and the word "silhouette".  So, in this case I typed "public domain rabbit silhouette".  Easy and legal is the way to go, people!
2. After the image is chosen and printed, you cut it out and pin it to your two pieces of felt.  You can cut each piece individually if that's easier for you.  I tend to go for the fastest way. ;)
3. Next, you place the two pieces of felt together, lining up the edges.  Prepare your embroidery thread by separating 2 threads from the rest.  Once you  thread the needle, pull the threads through, and knot the ends.  You will have a combined 4 threads to sew with.
4. Holding the felt pieces, start the thread on the inside of the ear pieces and pull the thread through to the outside.  Continue stitching around using a blanket stitch., leaving a hole for stuffing near where you started stitching.  If you'd like to learn more stitches like this one, my favorite book for this is Sublime Stitching.
5. Once you are near the end where your hole is, stuff the piece with your chosen filler.  You will need to squish the filler around and push it down with a long, pointy object so it will reach the bottom and spread to all areas.  You can also squish the filler around with your fingers.
6. Finish stitching the pieces, ending your stitch inside the pieces so they doesn't show.  Tie off with a double knot.
7.  Squish the filling around a bit more to evenly distribute it and you're DONE!
You just made a stuffed animal!  Is your head spinning with ideas now?  This would be a cute idea for a new baby or any of your kids to make for a friend!