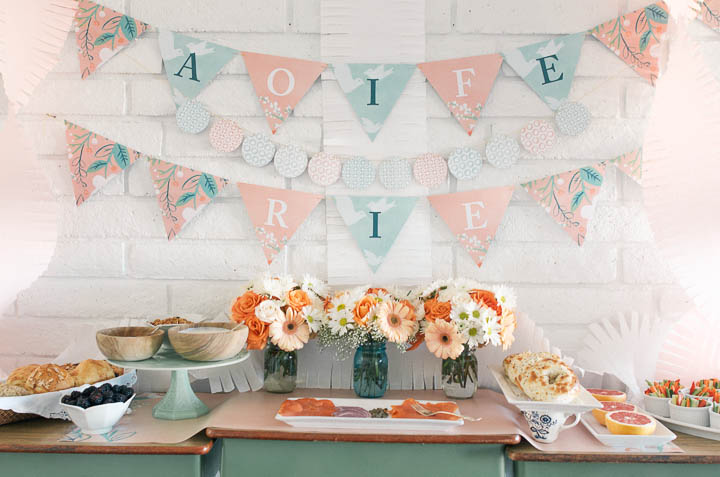 On this special day, the joy was overwhelming for my friend Erin, as she awaited the blessing of a little one.  We had been praying a long time for little Aoife.  She is truly a gift.
I wanted Erin to feel special and loved.  She is one of my besties so of course she deserves THE best.
I chose a simple brunch menu, so I didn't need to flutter about the kitchen as I usually do. I partnered with Minted for the decorations because I'll use any excuse for hanging their products at a party!  The lovely banner with Aoife's name, the table runner (very durable material), striped grey paper straws, floral stickers, and the cutest matching straw banners that say "Oh baby" were all from the Minted party decor.   They can be found here on their website under the name "Matthiola".  To complement the decor, thick crepe rolls can be found from Paper Mart for only a few dollars a piece (pictured surrounding the banner).  Plus, you can reuse the rolls since they are more durable than their baby crepe paper brother you've used at parties before!
Simple Brunch Menu:
Smoked salmon platter (thinly sliced red onion, capers, cream cheese, wild smoked salmon, bagels)
Yogurt, local granola, blackberries, and homemade spiced apple butter
Vegetable crudites and hummus
Chocolate croissants
Bruleed grapefruit (attempted)
Freshly squeezed orange juice from Stehly Farm's oranges
Freshly juiced beets, oranges, strawberries, and spinach
To make your party day prep smoother, prep as much the day or night before.  Put things in bowls if you can, prep and cut veggies, put any items you can ready to go on platters, squeeze your juices, and you can even put the serving utensils in your bowls if you are serving everything first thing in the morning.  Every little bit helps.  I try to make my baked items fresh that morning if possible.  In this case, Faith made the scones so they were nice and fresh!
It's always a joy to celebrate new life.  Such a great reminder of the new life that Jesus brings to us.
I partnered with Minted for the decor shown in this post.  I love this company and all opinions are completely my own.
Click below to follow us on:
F a c e b o o k  //  T w i t t e r  //  P i n t e r e s t  //  I n s t a g r a m  //  E m a i l