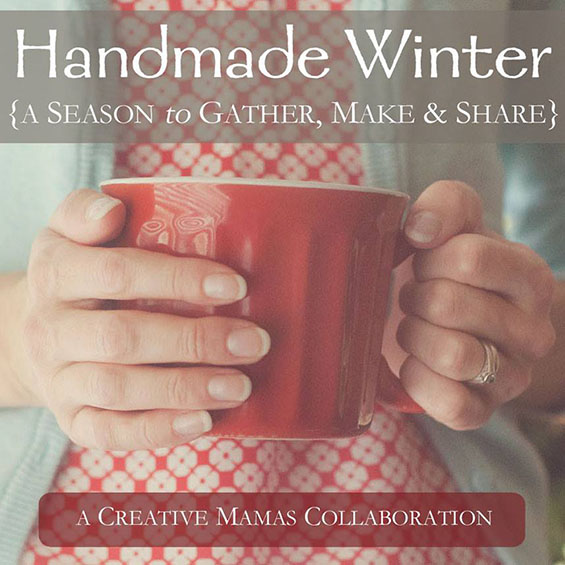 So excited to share about this project!
I know that so many of you are trapped in snowstorms around the country right now and REALLY need some inspiration department, right?  Whether you ARE stuck at home or just wanting to have more cozy recipes and activities going on this Winter, the "Handmade Winter" book is what you'll need for inspiration! We all desire more handmade in our lives and this is an exceptional place to start!
I feel so blessed to have several of my recipes and some of my thoughts on food in this book.  The other ladies who have contributed to the book are some of THE most inspiring ladies I know.  I am so happy to call these #creativemamas friends and together we have collaborated to bring you this amazing "Handmade Winter" ebook!
Here are the #creativemamas, so you can get to know them after you buy the book HERE, of course:
Rebecca of Simple As That, Bonnie of A Golden Afternoon, Jessica Abbott the Sewing Rabbit of Me Sew Crazy, Shannon of Very Shannon and luvinthemommyhood, Carla of Small + Friendly, Deborah of My Life At Playtime, Jen Cooper of Classic Play, Caroline of Salsa Pie, Lacy of Living on Love, Kim of The Little Stories, Jenny of The Southern Institute, Abby of Things for Boys, Laura of Craftstorming, Joya of Rajovilla, Helen of Curly Birds, Marigold of Hideous! Dreadful! Stinky!, Michelle of MollyMoo, Toni-Maree of Sew Jereli, Jane of Buzzmills, and Amy of Maker Mama.
In "Handmade Winter", there are almost 100 pages of glorious photography, recipes for entertaining or just for your family, projects to encourage closeness with your loved ones, or just some amazing cocktails to make for a Friday night (like tonight!)
See what some people are already saying about the book and stay tunes for the book tour I'll be participating in:
I'm so excited to try Joya's chai tea recipe.  I'll share how it turned out next week but for now, go buy the ebook and find something to make your weekend more handmade and cozy for winter!
Some peeks…
You're going to love it!