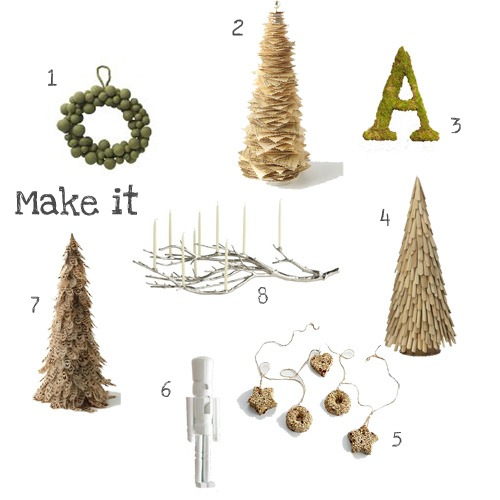 If you're like me, you see things all the time in stores and in magazines that you could totally make.  This year, with the handcrafted movement ascending to even greater heights, I've seen tons.  The decorations are mostly over-priced versions of  popular Christmas-time silhouettes.  A lot are actually made out of good materials so it's not like buying something that looks great for 5 minutes and then falls apart.  All of the companies, represented above, make a good product.  I just don't care to spend so much money.  With me?
1. Felted Ball Wreath found at westelm.com, $39.
This wreath would be easy to make by putting some felted balls together with some glue.  The felted balls are made by using 100% wool felt found at craft stores (I suggest online this close to Christmas because mine are completely wiped of Christmas colors).  You simply form the ball and shrink them in hot water.  It's like what you may have done with a wool sweater on accident except this time the shrinking is on purpose.
2. Printed Paper Tree from anthropologie.com, $48.
Stack some cool old paper (music, manuals, book pages), grab some jagged-y scissors and cut in differing sizes to form a tree shape, and slide them down a paper towel holder.
3. Live Moss Letters from potterybarn.com,  $79
Michael's sells sheets of moss for a few bucks.  You could easily cut out letters from cardboard or buy the "raised" kind from Michaels' for a few dollars. Just pull out some scissors and glue and go to town.
4. scalloped Trees from westelm.com, $39-$79
Michael's sells floral styrofoam which is in the shape of a tree or cone.  You could line these with pieces of split bamboo or driftwood.  You can find either at floral supply stores.  My backyard is crawling with bamboo if you ever need some…
5. Bird Seed Garland from redenvelope.com, $29.95
Throw some seeds which feed your local bird life and mix it with a little bit of something sticky, like honey or agave.  Press the mixture between cookie cutters or in muffin tins with a string in the middle of the molded shape.
6. Modern Nutcracker from westelm.com, $29-$69
Find a cheap nutcracker that's dressed as a zookeeper or a dolphin trainer, rip off the extra stuff, and spray paint the thing white or red.
**UPDATE**I made the Nutcracker!  Tutorial found here. :)
7. Feather Tree from Anthropologie.com, last year
Use the same florist cones as mentioned above except add feathers, starting from the bottom.
8. Manzanita Candelabra from westelm.com, $99
Yes, this is made out of metal and last time I checked I don't have welding equipment downstairs. However, you could totally use branches.   You can get manzanita (super-sturdy) branches at floral supply stores,  If you live near manzanita trees you could grab some dead ones off the ground.  Dried would be best I think, considering they will be painted.  I've been searching for some whilst driving through our local mountains, but I get car sick, you see, and quickly aborted that mission.
I've seen tons more since making this list, but it's a start.
Hope you find something to make :)
I'm getting started with my "12 days of Pinterest"…check it out!