Make a dress for a night out?  Yes!  I finally did!
I love to make little girl's dresses.  It's very satisfying work.  It helps that my sweet girl seems to appreciate it immensely, but I would still do it anyway.  I have cut out soooo many patterns for dresses for myself, but I have a hard time making up my mind since it's such a larger scale that a little girl's dress (1 yard vs. 3 yards).  I've made clothes for myself…a few skirts here and there and a few lame shirts.  I've worn them around the house but I'm such a perfectionist, I was always afraid of the dreaded, "Did you make that yourself?" question.  The question swirls around in my head and comes out more like, "Did you attempt to patch some fabric together and wrap it around your body in order to form a piece of clothing?"  I'm sure people mean well, but I would prefer my clothes to NOT look homemade.
Is that so very wrong?
So, I found this sweet and super-easy way of making a dress from the always lovely and always inspiring Anna Maria.  I saw it like a year and a half ago and knew it was going to be perfect and it only took me that long to actually make it.  At least I finally did, right?  You can find the sewing instructions on her blog here and be sure to poke around a bit because there is a lot for a creative sponge to soak up.
The pattern was easy to so because it was made from 4 panels of fabric which are the same size.  Craziness!  It has such a pretty drape considering that.  The waist is sewn with elastic thread which is covered by my belt in these pictures.  I HIGHLY recommend this pattern.  You will not be disappointed.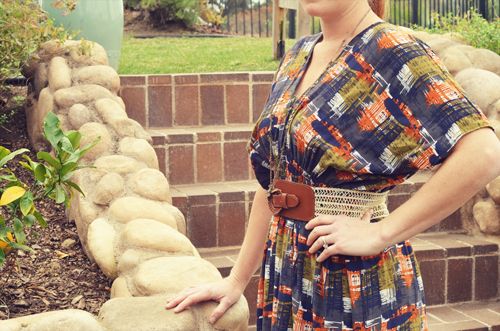 I found this fabric from Hart's fabric ( my favorite fabric website).  I knew I loved it right away and I didn't care if anyone else did.  I love that feeling.  This fabric was waiting for this dress pattern.  I know that now.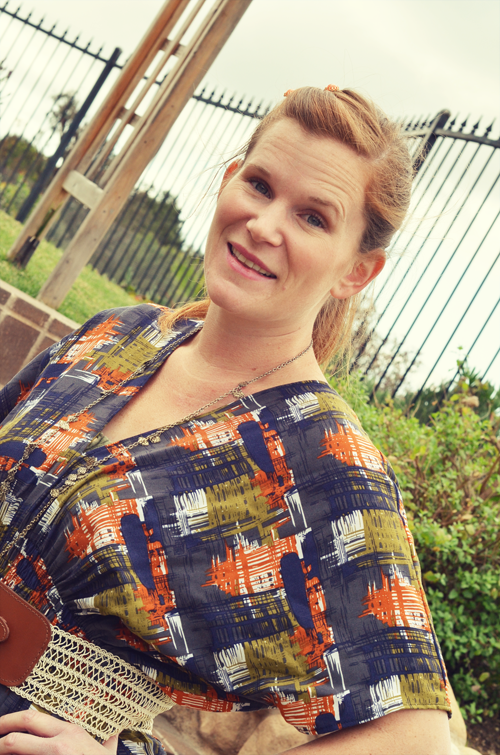 My husband loves a good side-ways picture. A weirdo, but I love him so.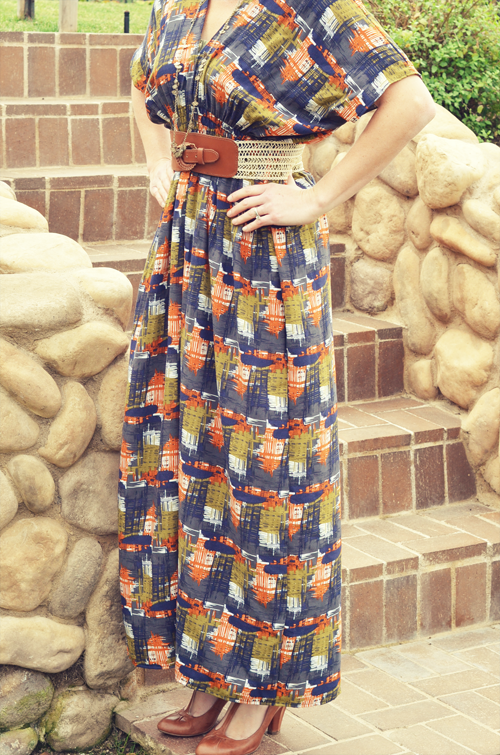 Dress: made it! / shoes: Nordstrom (matching with my friend :)) / belt: Anthro / necklace: Banana Republic outlet ('09)
Anyone else want to make one?
It's perfect for a night out…
Linking with Mandy at Harper's Happenings
and with Emily