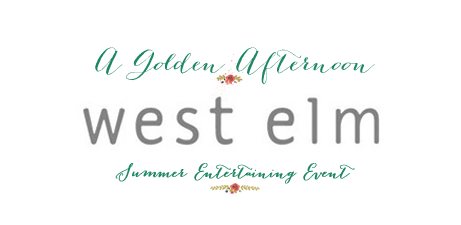 I'm so excited to be participating in another West Elm entertaining event!  This time we are freshening up for Summertime!  I will be sharing some ideas to brighten up your Summer tables and patio!
This time, West Elm San Diego is extending the welcome to your littles!  I will have a special DIY craft for kids (teaser below!).  They will be so thrilled with it and can put right in their yard at home to welcome the new season.
For everyone else, I have some fun DIY drink garnishes and garlands that will be sure to put a smile on your guest's faces and yours too!
Also, I will be sharing some fun Spring cocktails and mocktails for you to taste with one of my favorite drink ingredients lately, grapefruit!  It's time to add a few new things to your summer entertaining menu!
Where: West Elm San Diego
When: April 10th from 6pm to 8pm
RSVP by commenting below.
It's going to be awesome plus you can check out the new West Elm Market, which is amazing.  There are so many things that I have my eye on like, these and this.
I'm excited to meet many of you there!  Bring your kids!
Who's in?
Not in San Diego?  Check with your local West Elm to see if they are hosting the same event!