So, lately I have been in a soup funk.  I guess it's not really a funk because everyone around here seems to be happy with it.   Basically, I seem to be only thinking in soups these days when it comes to cooking.  I even convinced my newly minted 3-year-old to have 2 kinds of soup for his birthday party.  It was a "soldier" birthday party and I wasn't really lying when I said it was perfect soldier food, ya know?  In the past few weeks, I've made tomato soup, roasted tomato and fennel soup (x2), potato and leek soup, potato soup, roasted vegetable soup, and this asparagus soup.  I can't help myself.  It is perfect for lunch or dinner, whether it's cold or hot.
I wish I had made this today and not last week because we caught the not so very elusive airplane cold on our trip back east this week.  It started with me last Wednesday and now it has 5/5 of us.  Needless to see the mood is a little irritable amongst the troops.  Soup would be awesome right now.  I was supposed to go to a food truck gathering tonight to get a butter-poached lobster grilled cheese, but I decided taking 3 kids with runny noses to such an event would be a bad idea for us and the people around us.   Too bad because it's the first time this truck, Devilicious, was going to be at this otherwise quiet get-together.  We don't get the good trucks down in south San Diego very often.   Instead, I threw together a tomato and goat cheese tart.  I guess it worked out.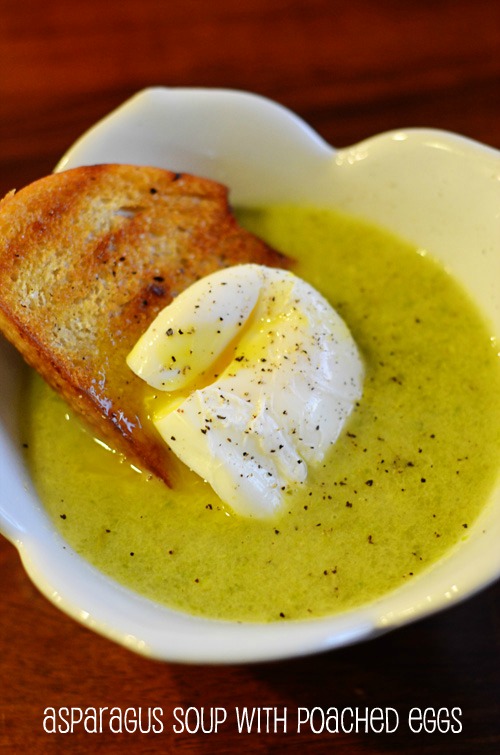 Yes, it's not your computer.  The picture is a little weird because it was late and the sun was down.  I'm only saying that because I don't like looking at this kind of lighting but really wanted to share the easy recipe.  I hope that's ok.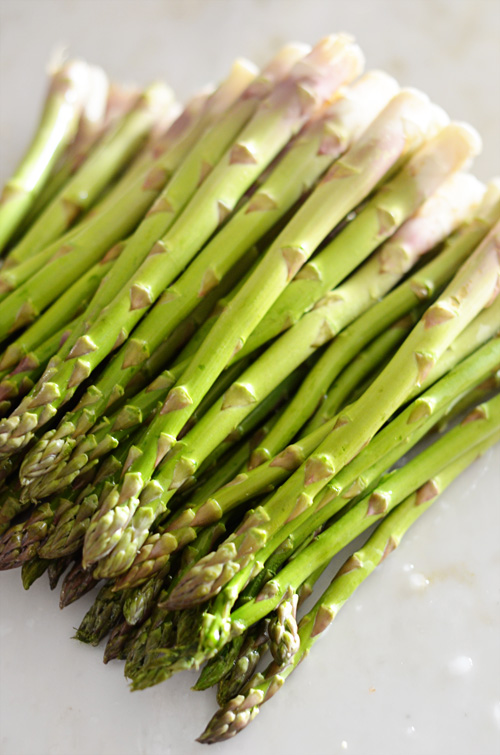 I love asparagus so very much.  My Mom even knows how much I love it because she put some in my fridge for our return home.
  Thanks, Mom :)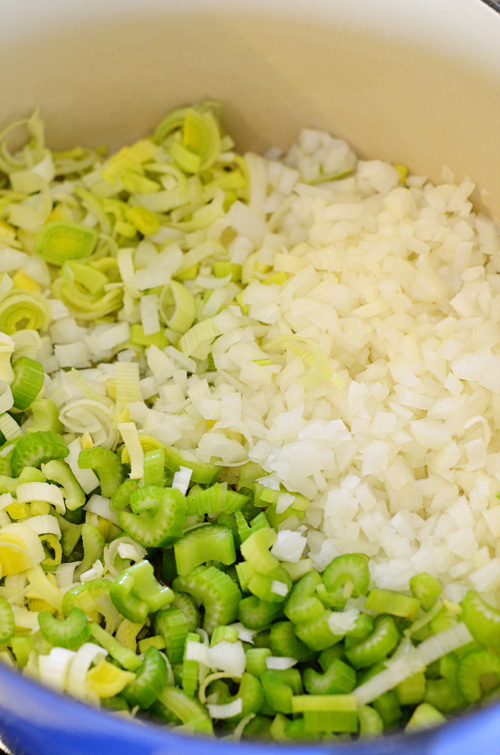 Start by sauteing all of the veggies, except the asparagus, in olive oil.  Add salt and pepper to taste.   Cook for 10 minutes or until soft.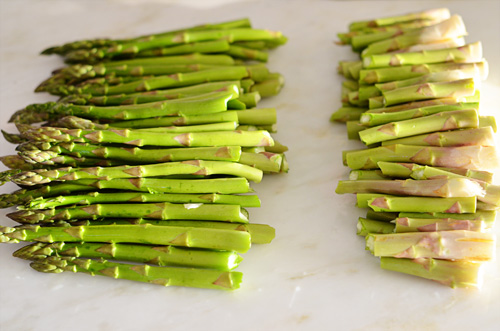 While that is cooking, prepare the asparagus by trimming the ends.  The best way, I've found, to remove the ends is to hold the woody/hard end with one hand and grab the whole spear halfway down with the other.  It will just snap where the tender part meets the hard part.  It just lets you know because it's that fabulous.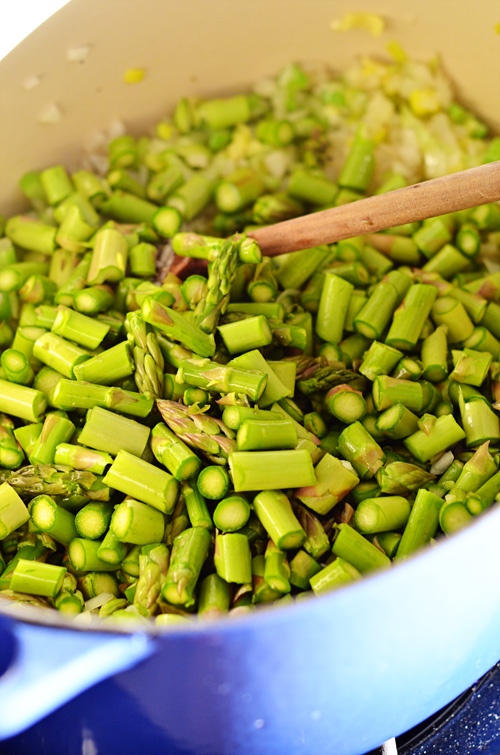 You can add it to the other veggies.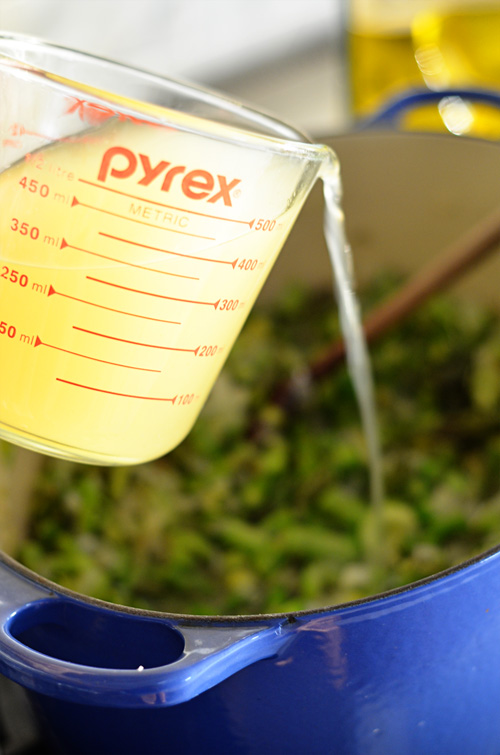 Add the vegetable stock and simmer for 20 minutes.  Then, puree in the blender or with an immersion blender and season again if needed.  I tried this with the immersion and the consistency ended up being a little coarse for me, but I'm sure it would have ended up fine in the blender.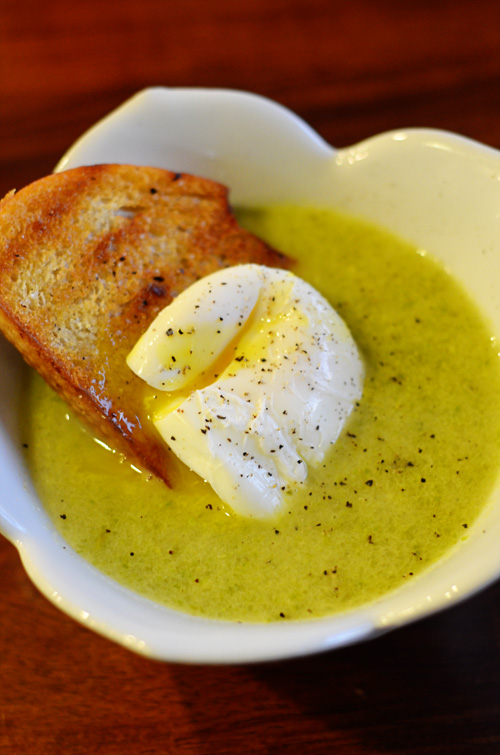 I made up a bunch of grilled bread (with olive oil and salt and pepper) and a few poached eggs for everyone.  I love me some poached eggs!
Asparagus soup
(adapted from Jamie Oliver)
2 onions, chopped
2 sticks of celery, chopped
2 leeks, chopped
2 lbs of asparagus
2 liters organic chicken or vegetable stock
sea salt and fresh pepper
 Gluten-free bread or rustic bread, sliced and grilled
poached eggs