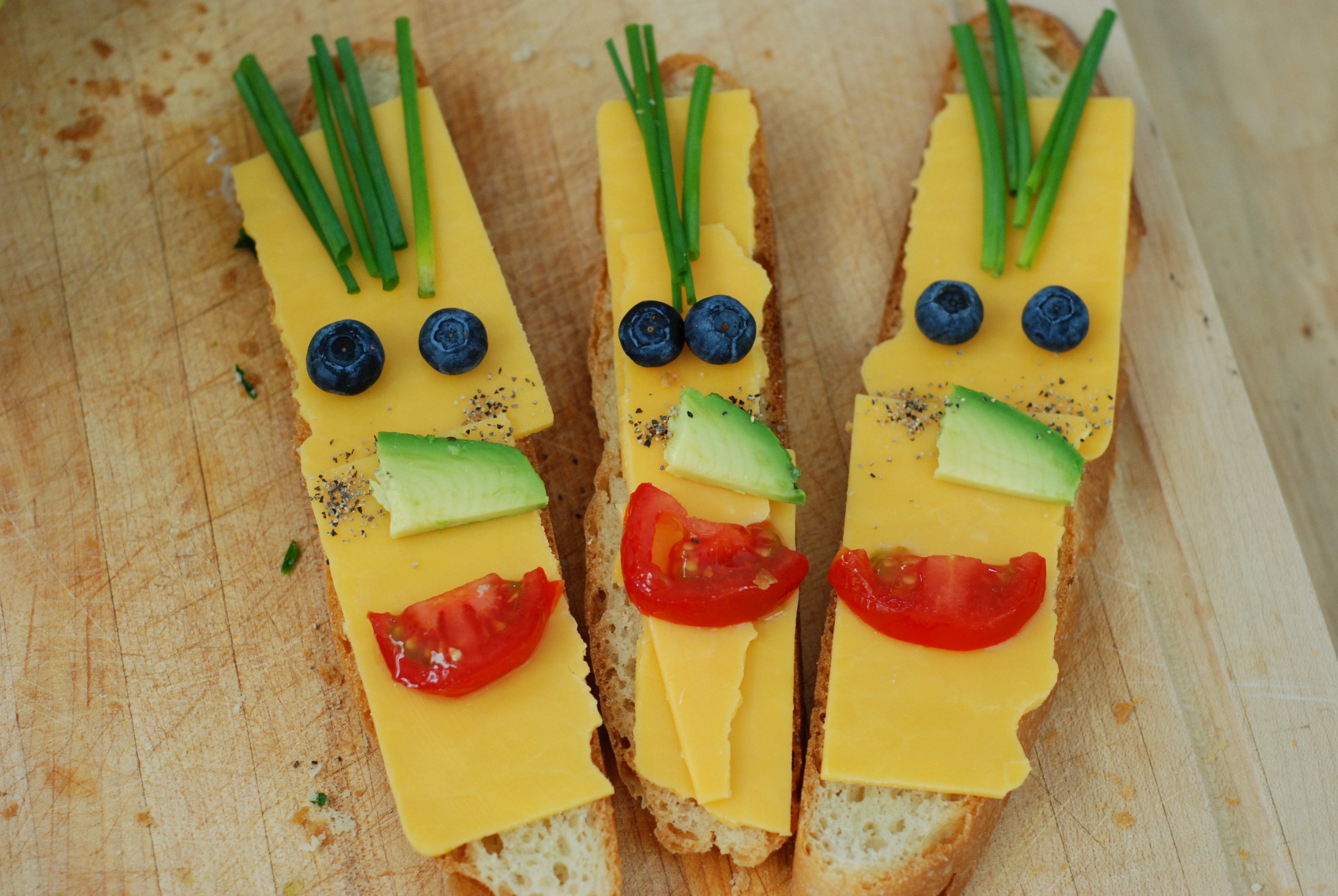 My kids as sandwiches…including freckles. My husband called these "Easter Island" sandwich heads.
Here is one way to ensure lunch is gobbled up.  I've seen so many wonderful photos of  Japanese lunches lately.  Their food is made with such care it's so contagious!  I don't know if a Japanese mom makes them that way every day, but either way they are pretty amazing to look at and certainly inspiring.  Bento boxes are getting pretty popular again and I hope the fresh food comes with it.
Yes, I am aware blueberries are out of place in this sandwich, but what's a mom to do when you have no olives to slice and you are in need of sandwich eyeballs?  I rest my case. Blueberries it is.
I have found that kids will eat the very same foods they pretend to dislike in completely different forms (even though we still have them eat them with a smiling face and excitement to grow big and strong).
Example:  Turkey Sandwich with cheese and tomato
Turn into: sliced cheese, pieces of sliced turkey, tomatoes and whole wheat crackers arranged on a plate for them to create with.
Turn into: cheese quesadillas with turkey, diced tomatoes (add some chives for color and dash of vitamin K).
Turn into: cracker pizzas with a cracker as a base.  Add turkey, cheese, a slice of tomato.  Microwave or melt ingredients until just softened and add some fresh chopped basil (note: adding it before microwaving will result in ugly brown basil. blech).
Turn into: snail wraps which are all the above common ingredients in a tortilla wrap.  You slice the wrap once rolled and add a cornichon (read small) pickle  for the snail head. Put the roll on its side and attach the pickle to it with a toothpick.
Prepare to go 'awww'.
Turn into: panini it or make a  grilled cheese with it!  Kids LOVE melt-y cheese.
The food is basically the same regardless of the composition and kids love to have a litte bit of control so why does it matter how it gets inside? Right?