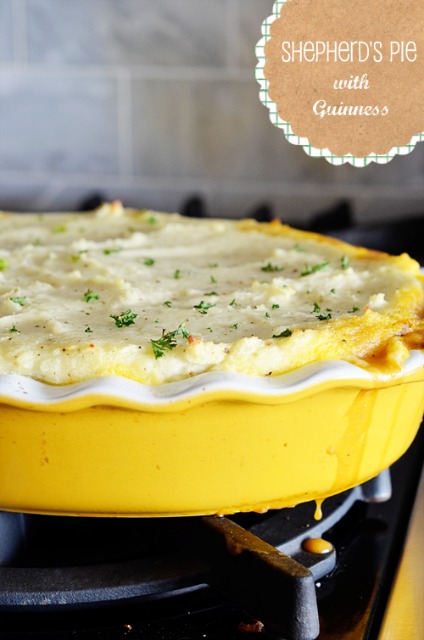 I love Holidays.  They are an awesome way to get people together, eat good food, share a bit of happiness, and maybe even relax a little (if you're not the hostess, of course!)  St. Patrick's day is no Christmas, but there's a little piece of history there for everyone to celebrate in.
St. Patrick (or Maewyn Succat, as he was known) is a really incredible person.  He was actually an accidental slave brought to Ireland, who seemed to know, even then, that God had a reason for sending him to such a crazy far-away place.  Years later, when returned to his home country, he felt the need to go back to Ireland and share Jesus with as many people as he could.  Now, how many times have we complained about something horrible or even just inconvenient happening to us and we wonder what God could possibly be thinking?  I do it all the time.  I probably did it today.  I'm sure Maewyn wondered, but he still went.  He trusted God's plan even though it meant a complete 180.  Sometimes we are meant to have u-turns, like Joye said the other day, even though they are confusing and sometimes painful.  God was with Maewyn and He is with US through every decision, giving us the Holy Spirit, wisdom, and FAITH.
Anyone out there Irish?  I may have red hair but I am not the teeniest bit Irish (that I am aware of).  99% of the people who ask me about my hair color, assume I'm Irish.  My kids have some Irish in them from their Daddy's side but Scotland is where it's at for this girl!
I wish you could all come over for a big party on St. Patrick's day, so instead I'd like to share my shepherd's pie recipe.
 Shepherd's Pie with Guinness
potato top:
1 1/2 pounds of russet potatoes, pealed and cut into large chunks
1 cup milk
4 T. butter
salt and pepper
meat filling:
a few T. canola oil for pan
6-8 medium carrots, chopped
1 c. red onion, diced
4 garlic cloves, miced
1 1/2 lbs. ground lamb, turkey, or beef
(Lamb is the traditional meat, but I've made it with all 3 meats successfully)
salt and pepper for seasoning
3 T. Gluten-free flour (or whole wheat)
1 T. tomato paste
12 tsp. Worcestershire sauce
1 T. rosemary, chopped
1 T. thyme, chopped
1 1/2 c. Guinness beer (you can sub a broth for this if you prefer)
1 c. peas, fresh or frozen
1 tsp. parsley, for garnish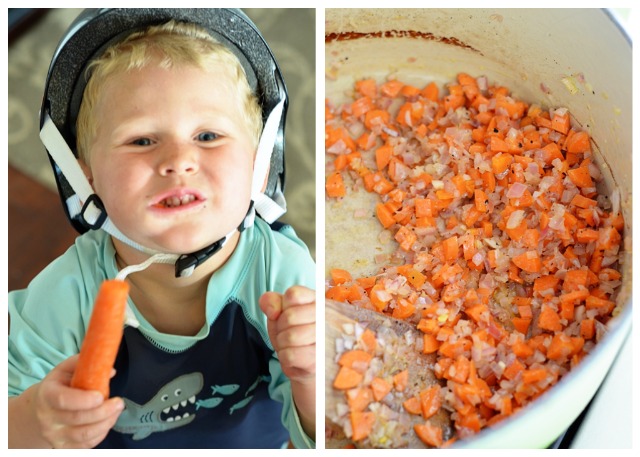 Start by boiling the cut potatoes until tender.  They usually take at least 30 minutes, which is why it's best to start with them.  Then, saute the carrots, onions, and garlic with a few tablespoons of olive oil on medium heat.  You can find some lovely carrots this time of year if you have a local farmer's market.  Add some salt and pepper (to taste) and cook until the onions are browned, about 10 minutes.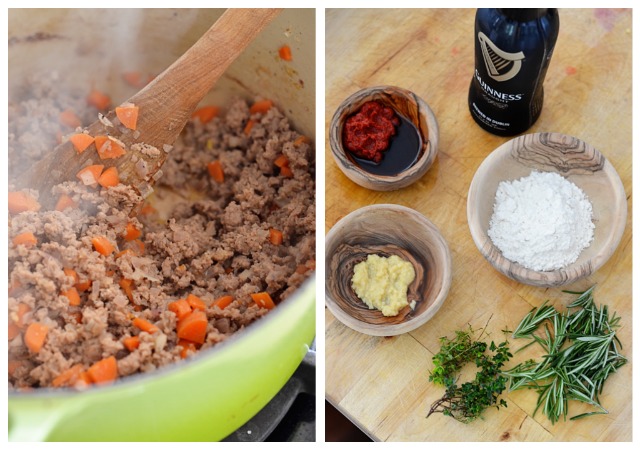 Add the meat to the veg mixture and cook through.  While this is cooking you can measure and prepare the seasonings above.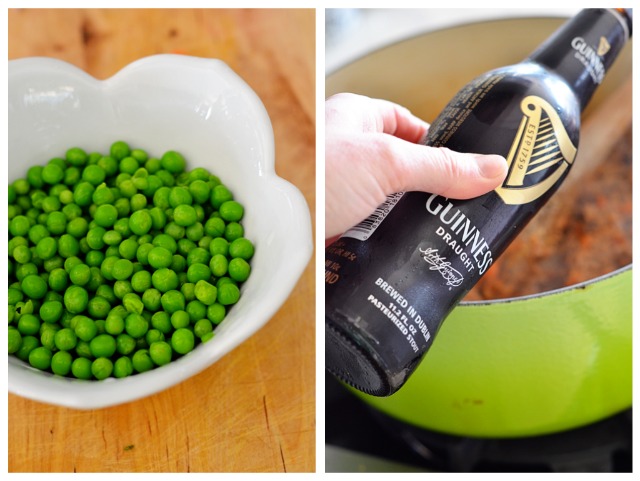 After the meat is cooked, add the flour.  Stir.  Then, add the tomato paste, Worcestershire sauce, rosemary, thyme, and beer.  Add more salt and pepper as needed.  Cook for 10-15 minutes until the liquid thickens a bit.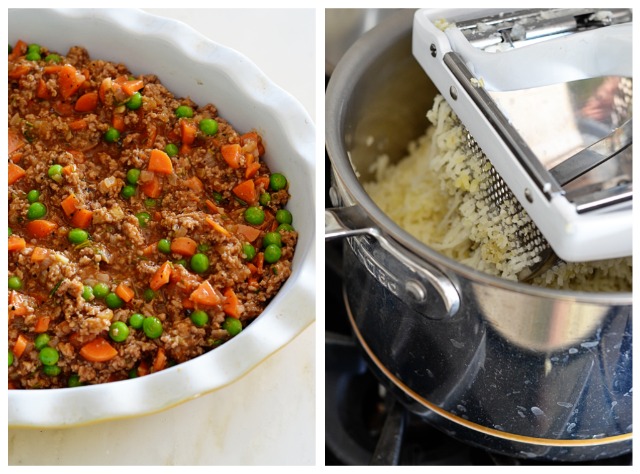 Put the meat filling in an oval baker or 11×7 in. pan.  Mash the potatoes or put them through a ricer.  Add the milk, butter, and salt and pepper and stir until combined.  Spread the potatoes over the filling.  Place on a baking sheet (in case it bubbles over a bit) and cook at 400 degrees for about 25 minutes.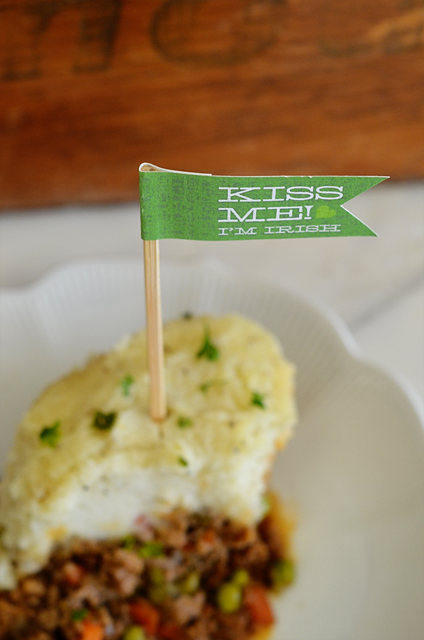 I found these adorable St. Patty's printables from Ellinee.  Enjoy the food and invite a few people over for some good Irish beer and some laughs :)