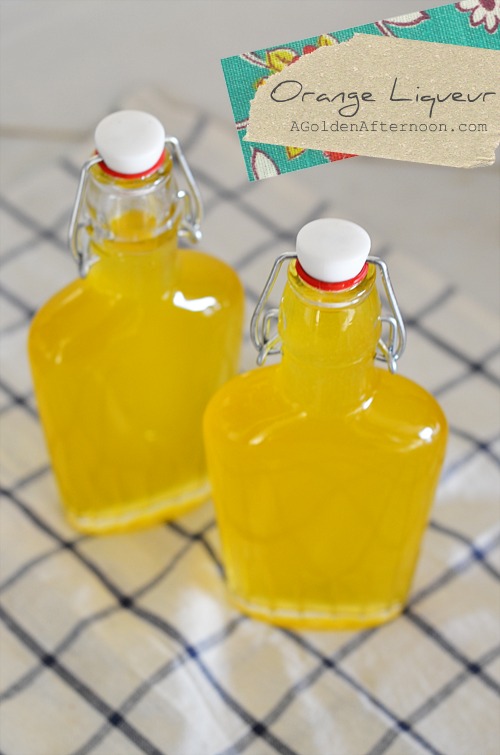 Pin It
Forgive me, I am about to go off about Downton Abbey again so hang with me if this bores you because either way, there is a drink recipe at the end.
We all know I am obsessed with Downton Abbey, like the rest of the world, it seems.  I find inspiration from that time period everywhere and this time I found it in my cocktail.  A month before Christmas, I threw some vodka in a few jars of oranges.  It was supposed to be a Christmas present for my sister but I clearly didn't make it in time if I thought a miracle would turn it to liqueur in time.  So, I kinda forgot about it until I was suddenly craving a "Sidecar".  This lovely drink was brought about in France during/after WWI because of the 2 available liquors, Cointreau and  Cognac.  It apparently floated over to the U.S. during a not so convenient time, Prohibition.  Today it is ever so popular because of the increasingly fascinating speakeasy establishments  of today which I am kinda obsessed with right now.  Obviously, purchasing alcohol is not illegal anymore and we are not threatened with imprisonment, but it's still super-fun to be in a place that is secret or exclusive in some way, don't you think?
I enjoy a good handcrafted cocktail, especially on the weekends when I have a chance to wind down from teaching school, managing a household, and just the running around that comes with the average week.  The cleaning and the cooking always stay but that's just the way it is.  We have to eat and I prefer to have it clean around here anyway.  All that to say, it's nice to have something to relax you for the weekend or during the weekend.
For the Sidecar: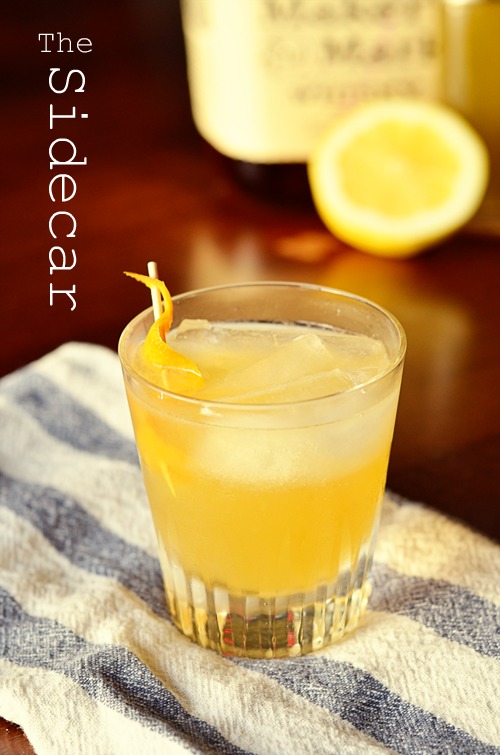 Pin It
For the classic sidecar cocktail, there are supposed to be equal parts orange liqueur, cognac, and lemon juice.  I made it three different ways and picked my favorite.  Equal parts left too much sour lemon flavor for my taste.  Cognac is often swapped for Brandy or even Bourbon.   Even though I love Bourbon,  I actually prefer Brandy or Cognac in mine because I think it balances better with the lemon.
In the end, I chose this combo:
Bon's Sidecar:
1 part orange liqueur (as made below or Cointreau)
1 part Cognac
1/2 part lemon juice
Shake on ice and pour over ice.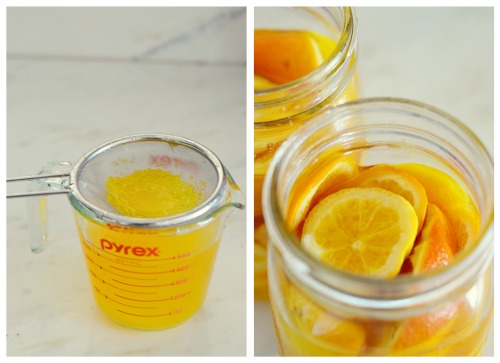 (note:  If you are planning on making this as a gift, start it about 12 weeks before you want to give it away)
Orangecello:
orange vodka-
4 c. vodka
4 oranges, cleaned and the sweeter the better
Simply slice all of the oranges and put them in a lidded jar with 4 c. of vodka.  Place it in a cool place for at least 2 weeks (mine was a month).  Then strain the pieces out and store for another few weeks.  Now it's ready to be sweetened…
orangecello/orange liqueur-
1 Part water
1 part sugar
4 parts orange flavored vodka
Dissolve the sugar in the water over medium heat.  Cool.  Now, add the simple syrup (sugar+water) to the orange vodka until it tastes the way you want it too (I use all of it:)).    Put the resulting liquid in a jar and leave in a dark place for at least 6 weeks. You can find jars like mine for gifting at The Container Store.
Be sure to share with a friend…it's always better that way.
Has anyone made it before?
What's your favorite drink to mix it in?