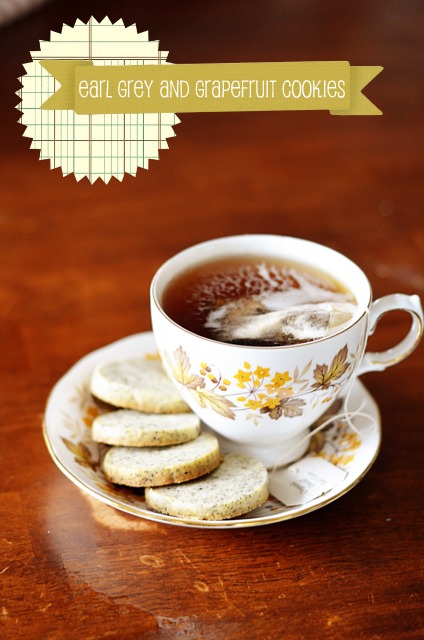 Earl Grey Cookies with Grapefruit Zest
(adapted from Martha Stewart)
2 T. earl grey tea, from tea bags (ground)
2 c. flour
1 c. butter (2 sticks), room temperature
1/2 c. confectioner's sugar
1 T. grapefruit zest
Combine the tea and flour in a bowl.  In your mixer bowl or another bowl, mix the butter, sugar, and grapefruit zest on medium until pale and fluffy.  Turn the speed to low and add flour slowly until just combined.  Separate the dough and roll each in a separate piece of parchment paper to form a log.  You want the log to be about 1 1/2 in. thick.  Twist the ends and freeze for at least an hour or until you are ready to use them.  Once ready, pre-heat the oven to 350 degrees, cut the logs into 1/4 in slices, and bake about 12-15 minutes.  Cool, eat, and share!

I'm so thrilled to share that I was asked to be a contributor for Beautifully Rooted.  I am so excited to be a part of that awesome community and to see  how God uses it to encourage women in their daily walk with their Savior.  Hopefully some people who are strangers to Him will come along for the ride, too ;)
Please poke around and encourage the other women who have shared a piece of themselves so we might ALL learn about who we are in Christ and grow closer to Him.  There is something for everyone…scripture, recipes, tips, crafts, encouragement, and mostly…
COMMUNITY.
So important.
Check out my post by clicking below and let me know what you think:

Stick around and find us on:
F a c e b o o k  //  T w i t t e r  //  P i n t e r e s t  //  I n s t a g r a m  //  E m a i l