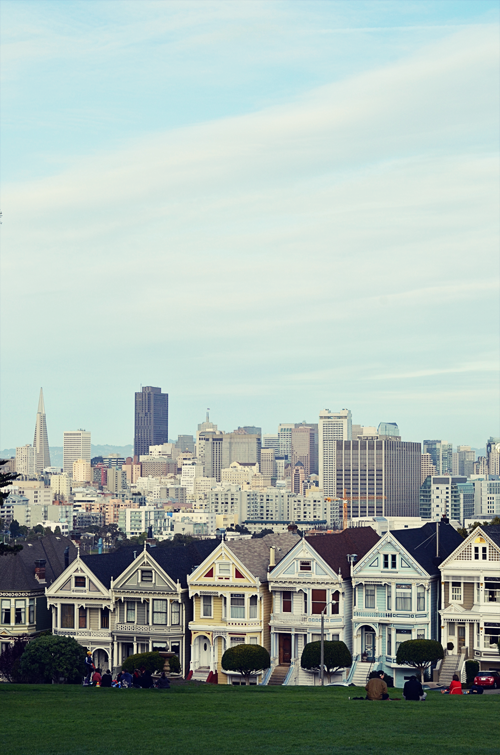 I was SOOO blessed to be able to tag along with my husband on a business to San Francisco.
Oh, man.
It was so nice to get away.  Time with my husband is so important to me…more important than time with my kiddos.  Should be that way, right?  It's so necessary to not just maintain a relationship through the stuff that makes up life, but to GROW it.  We are deliberate about "dating" each other constantly and I think God has REALLY blessed us because of it.  I love being near that guy and I hope that never goes away.
God knew we needed this time together.  He always knows stuff like that.  That's why He's awesome.
I love this picture because of the contrast of old and new.  The buildings in the front are some of the "Painted Ladies" of San Francisco, adjacent to Alamo square.  They were built starting in 1849 and yes, they were totally the houses in the opening song of "Full House".  East Coast people, that's old for here in the "New Frontier" of the west coast.  if you stand at the bottom of the hill, you see just the ladies…lovely ladies.  As you walk up the hill, you start to see the city appear behind them.
  It's breathtaking.
I immediately thought about how cool it was that these original homes were standing over the newer buildings in the background.  The people who built the original houses there would be flabbergasted at the magnitude of this city now.  God sure has given man amazing gifts to build.
temples
pyramids
castles
cathedrals
log cabins
painted ladies
skyscrapers
Seriously. Amazing.
Linking up with Heather: