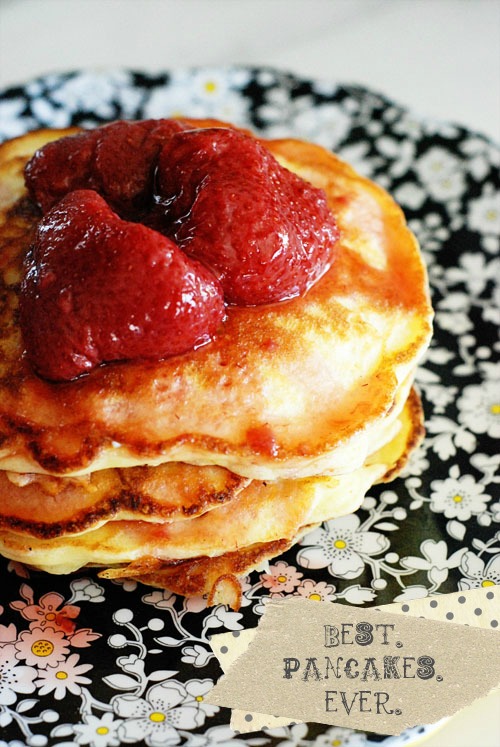 What every kid wants on a Saturday morning.
Kids always want pancakes.  My kids get RIDICULOUSLY excited about these puppies, but that might be because I don't make them regularly.  About one pancake in (if they make it that far) they are over it, but for that 15 minutes that I am prepping and the 3-5 minutes they are eating them, they are super excited.
THAT makes it totally worth it.
I've tried so many recipes and I never really found "the one" until very recently.  Yes, we fell in love and are quite happy together.  No other pancake can come between us…but a waffle could possibly.  I read similar sentiments in a post from The Brown Eyed Baker about the recipe she had found so I knew I had to try it.  Anyone who loves a fluffy pancake with a buttery delicious crispy outside will devour this recipe.  No cake-y pancakes here.
I added this food to my Junk Food Remade series because of the following:
That's quite a few more ingredients and other…stuff.  Now, I really love to use butter on my pancakes and that's not the best choice in some ways, but at least I know what's in my butter.  I think mine still cuts it WAY under 220 calories for 3 pancakes.  The cool thing is you can keep your dry ingredients in a jar or container and then add the wet on the day you make it.  That's pretty close to shake and pour, right?  As long as you are making them at home you might as well make them right!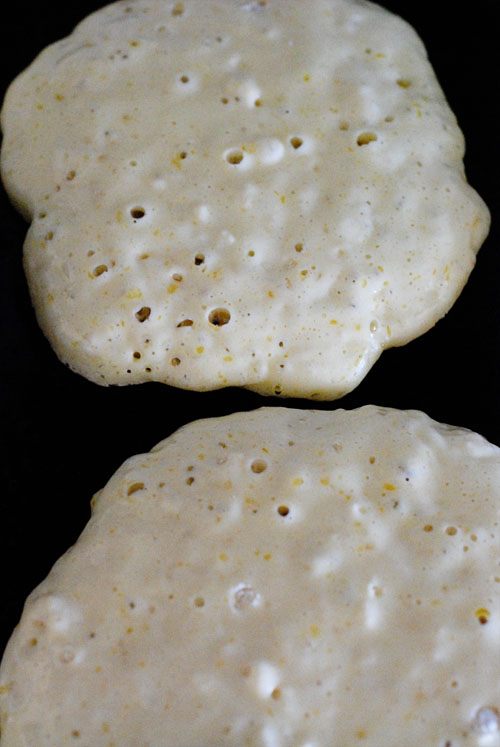 You can see the melted butter goodness and the textbook pancake bubbles.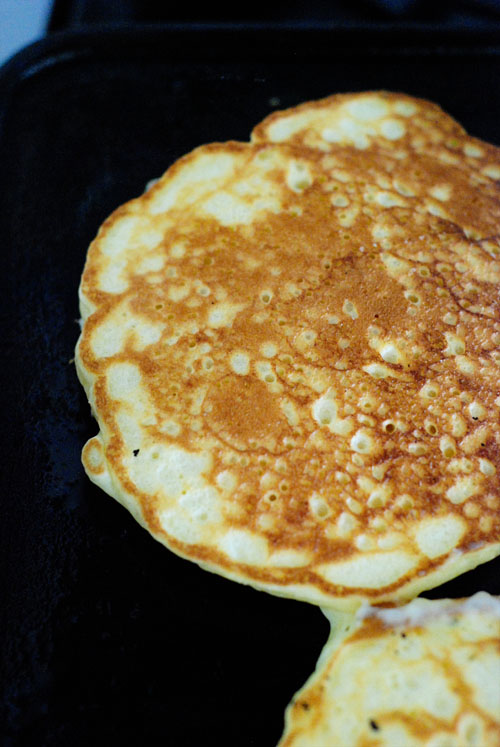 Best Pancakes Ever
2 cups flour
2 T granulated sugar
1 tsp baking powder
½ tsp baking soda
  2 cups milk (plus 1 tsp vinegar)*
2 eggs
¼ cup sour cream
3 T butter, melted and cooled a bit
butter or oil for the pan
Mix the dry ingredients together. In a separate bowl, whisk the milk/vinegar combo, eggs, sour cream, and melted butter. Pour the wet ingredients into the dry and stir until just combined…it's ok if there are a few lumps (resist the stirring!). Let it sit while your pan heats up.  Hot pans make the best pancakes :)  I prefer butter for my pancakes because I think it tastes Awesome  the best   perfect  irresistible pretty good, but oil is totally cool too.  Just grease your pan either way and cook until the bubbles start to pop .  Flip and cook 1 minute or so more.
Remember to grease your pan in between batches.
*Normally buttermilk is a great ingredient in pancakes, but who really has buttermilk when you need it for a spontaneous Saturday morning pancake session?  The old trick is to use 1 tsp of vinegar for every 1 cup of milk.  The milk "turns"  a bit from the vinegar and ends up pretty darn close to buttermilk.
To top it off…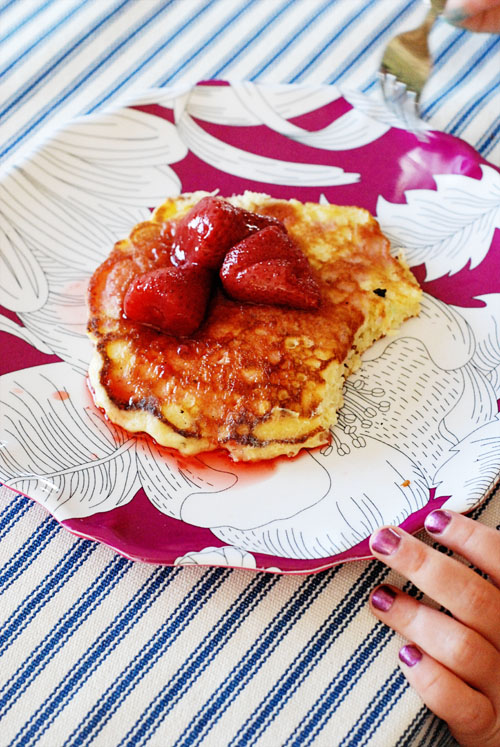 …grab some preserves (like these that I made this summer) or jelly instead of maple syrup.  If  your kids (or you) prefer the pouring motion, try to use REAL maple syrup from the tree (I know it's more $ but it's totally worth it), honey, or heat the jelly up so you can pour it on.
Here is what's in your old pal Auntie Jemima's syrup:
INGREDIENTS: CORN SYRUP, HIGH FRUCTOSE CORN SYRUP, WATER, CELLULOSE GUM, CARAMEL COLOR, SALT, SODIUM BENZOATE AND SORBIC ACID (PRESERVATIVES), ARTIFICIAL AND NATURAL FLAVORS, SODIUM HEXAMETAPHOSPHATE
She's not watchin' out for you anymore :/ Do you ever notice that we try to call it maple syrup but the closest thing to maple syrup it will ever be is sitting next to maple syrup on the shelf.  Just a few things we can ALL think about.  Know what you're eating!
That's why you are gonna make some pancakes from scratch right?
I thought so :)