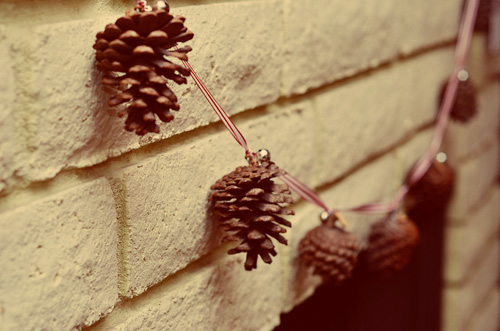 Have you noticed lately, that the word old is being replaced with the word "found"?  I noticed it first in a Pottery Barn catalog a few years ago when they were starting to bring the salvage look back because it was coming to new life again.  They started selling items called "found" items which were actual vintage pieces they had "collected" on their own.  My first thought was, "Hmmm".  My second thought was, "Who charges that much money for things you buy at garage sales?".  I know that salvage is popular with people who had never been actual purchasers before but I've already gone off on the subject before.  I still find it interesting that people pay Pottery Barn money to do something for them that is actually really fun and will sometimes just cost you a few smackers instead of 80.
Over the last few years, I've been having my kids find (literally…not just a cool sounding Pottery Barn word) pine-cones so we can save them for Christmas and I can make something cool.  Last year the time past and it never happened.  When it hits the 2 week mark before Christmas, I tend to switch gears from decorating to gift-making.  I'll make tags, last-minute add-on gifts (you can never give too many handmade gifts), "can" something to gift, make cookies for the neighbors, or make cards for special people in our lives.
That list may sound like a lot (or maybe it doesn't to you), but I do it WITH the people I love, too.  This project I got to do with my friend, Leah.  It's so nice when you get to hang out with a friend and talk about everything you can think of but also make something to you can take away from the day to remember the laughs but also the pains in our thumbs from screwing the hooks in the pine-cones.  Mine are still a little sore, but it was worth it for the company.  Plus, my friend often travels with muffins.  Super-bonus.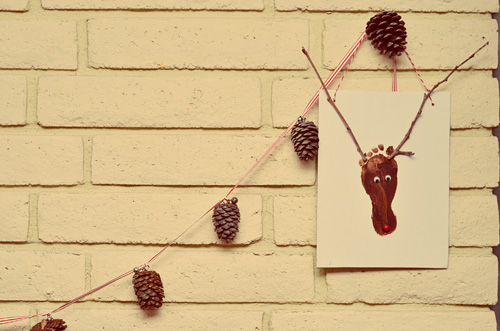 The garland looks cute next to the reindeer foot "portraits" my babysitter did with the kiddos.  Great idea, Brandi :)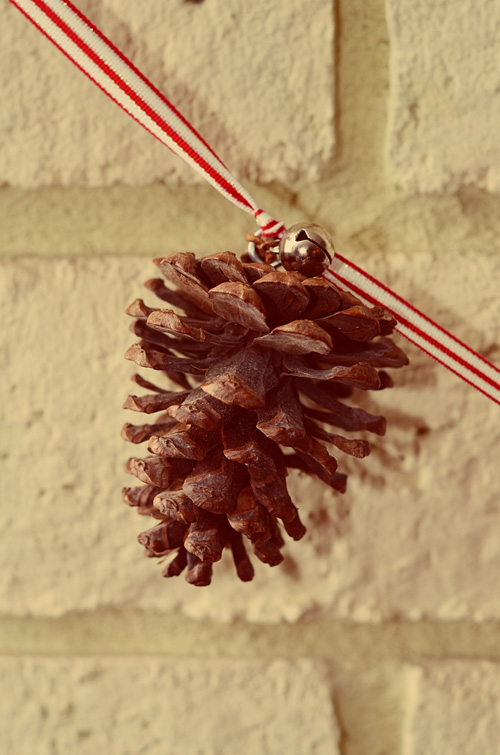 We made the garland based on this pin.  That pin was way too complicated for my interest at the moment.  We decided on something simpler like another garland we saw where the pine-cones had hooks screwed into the tops and then they were strung on a ribbon.  The search box is apparently gone from Pinterest so I can't find it at the moment.  I only had picture frame hooks, but they seemed to do the job with a little elbow grease and sore fingers.  I couldn't help but add a jungle bell.  It just felt right.
I'm hoping to give it to my mother-in-law so she can decorate her coach that is visiting us here in San Diego.  She is always away from home on Christmas, so since her traveling home will be here, I though we could give it a little festive flare!
Are you making anything handmade for your Christmas gifts this year?