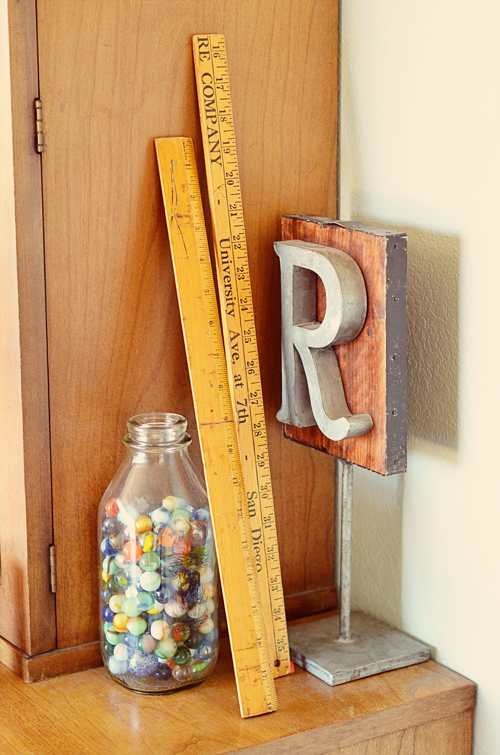 On a Saturday when my husband is traveling, you will almost always find me with my 3 kids, my Mom or a friend, a chocolate glazed/chocolate cake/chocolate sprinkle donut from the donut shop by my parents house, and a Starbucks Non-fat Venti iced caramel Machiatto.  This system works pretty well for kiddo happiness as we usually end up stopping at an undetermined amount of places.  I pack oranges, raisins, water, books for kids (we voluntarily choose to not have a TV in the car but I'm sure that makes it easier for some), and an eagerness for garage sale awesomeness.  My Mom and I take turns running in and checking stuff out with one of the kids (although my Mom will kindly let me go in by myself. wahoo!). The kids hope to come away with random hot wheel cars, old books, games, and occasionally something like a hot water bottle with a red knit cover and white heart (my sweet baby girl's choice that was quite adorable).
Doesn't that sound like a great Saturday morning?
I love hunting for those special things!!  I have searched years for things and finally found them which is am awesome feeling :)
What I look for:
Things that are understated but could easily be modified into something beautiful or even valuable.
Items that appear to have been made with much love and attention (e.g. someones old embroidery or art work).
Low cost but high value to me (old frames and books which I already have a ton of)
globes, crates, maps, and Pyrex
Any game we might not already have.
Brooches and jewelry (mostly 40s and 50s)
vintage fabric for sewing or wearing :)
large pieces of vintage furniture, even if it needs to be stained or painted into 2012.  I scored a set of Art Deco "waterfall" style furniture for our bedroom which I got an amazing price on.  I didn't have to do thing to them :)
Currently, at the top of my list is:
a record player so I can play all of my amazing records I've had for 15 years.  In the past I had used the player at my parents house.
a wok…I was telling my mom this was on my list  and she said she gave hers away…bummer!
school-house desks. I have just missed 2 on Craigslist.  Arg!
Marquis letters
Where I look:
Estate sales/garage sales
large rummage sales
Craigslist
second-hand shops
thrift stores
Sometimes I find nothing or only one thing.  I enjoy the process and the adventure of it all.  I think I got that from my Mom.  Our Thrift stores in San Diego are HORRIBLE.  If you've ever been thrifting in other cities and then ours you will know what I mean.  If I ever find something I want in a thrift store, it is often broken-ish, over-priced (marked collectible or antique), or not exactly what I want.  I love to hunt for items but I try not to stretch my desire for something because it's in front of my face.  I have no problem turning to Etsy for an often lower price for EXACTLY what I want.
I haven't had friends who enjoy estate/ garage/ rummage shopping until very recently.  This has always been a part of my life that I didn't share, but I'm excited to do it now :)  My friend Erin and I have a similar eye for these kinds of vintage items, so it's fun to finally share it with someone.  This isn't a trend for these 2 girls :)  That being said, it is never too late to start.  I've seen vintage items popping up in many of my friend's homes and it's so exciting to see so many wonderful things being loved and given new life.
Every week I want to share some of my favorite things I have found and I'd like to see yours too.  So, just put your link to your blog post or a Flickr photo in the comment section below.
A few of my recent treasures: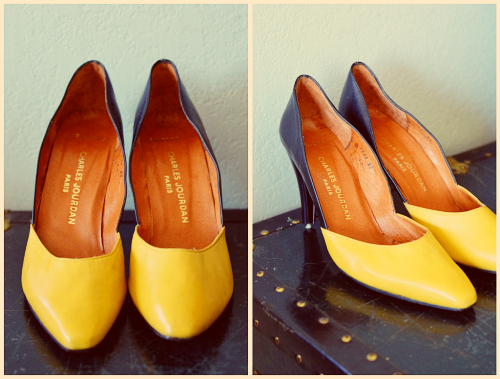 Vintage shoes from Paris: $20 (splurge for the day)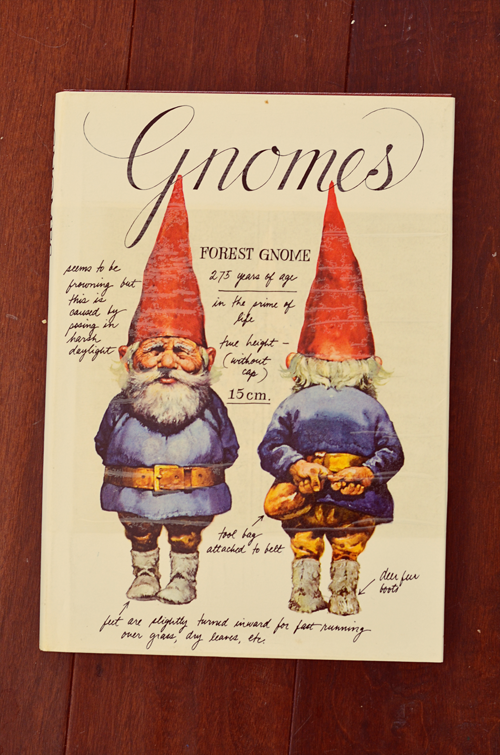 Ridiculously awesome gnome book which I've been wanting: $3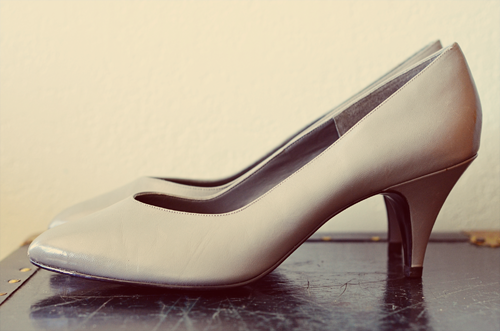 Vintage Grey Shoes: $4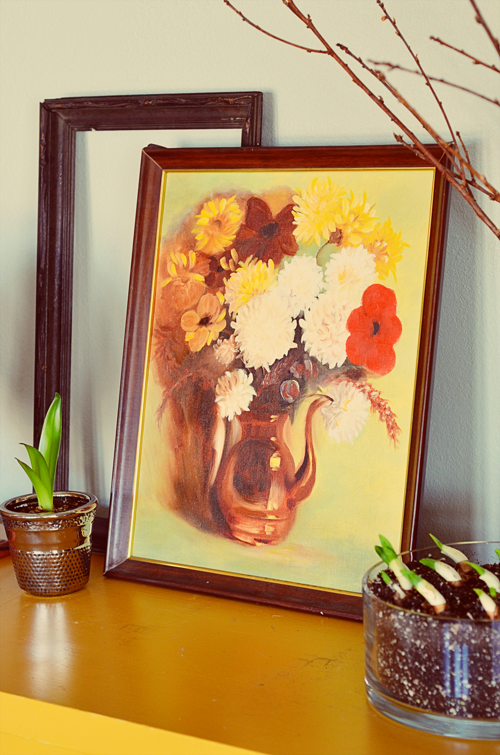 Original oil painting, framed: $8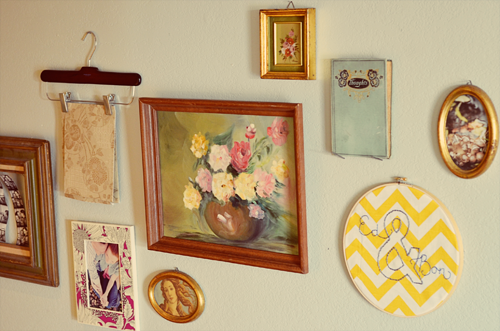 Original oil painting, framed:$12
What did you score lately?  Share below…
I'm linking with Mandy over at Harper's Happenings: