Last year, I threw together a group of products that I thought were inspirational for the handmade artist.  Well that list went CA-RAZY last year.  I couldn't even tell you how many people have stopped by to check that guy out.  I was/am shocked.
I love and purchase from all of the stores that provide these decorations, but sometimes it's fun to be inspired by them for our own crafting at home, right?  Right.
Here was the 2011 round-up: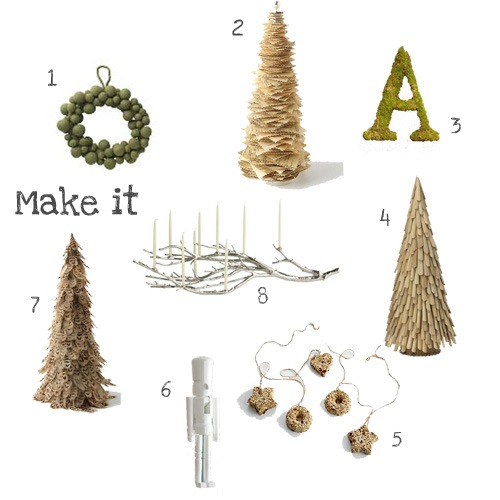 I did end up making a Nutcracker last year: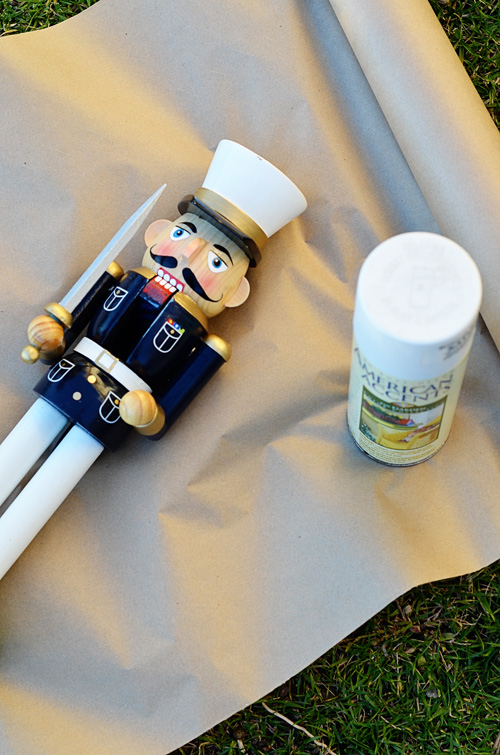 You can find my tutorial here.
I did manage to get a manzanita branch a few weeks ago on a hike so maybe I can pull off the branch candelabra.  That would be awesome.
This year, I thought I'd round-up some new ones for us to play around with.  Who knows?  Some of you might find something to buy while others might run to the craft store to get supplies. It's fun to look at dreamy holiday decorations either way.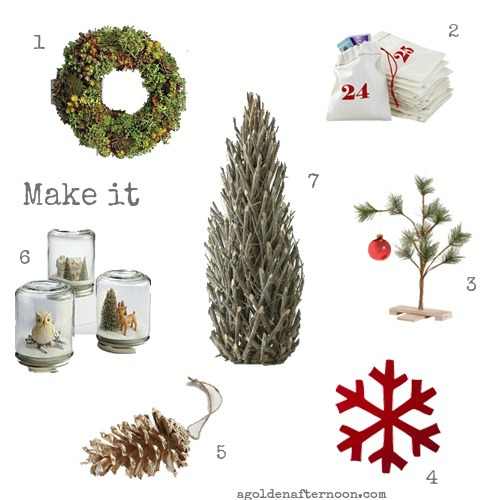 1. Succulent Wreath found on redenvelope.com, $80
 I have seen many tutorials for this kind of wreath, but Martha has a very clear one here that would be easy to follow!
2. Cloth advent bags from landofnod.com, $49
I bought these same bags from amazon earlier this year for PENNIES compared to this price tag.  You can find them here at $6.99 for 25 drawstring bags.  From there, you would only need to apply an iron on transfer for the numbers and you are golden!
3. Charlie Brown Christmas tree from target.com, $14.99
For such a cute tree, that price is not that bad. However, imagine of you could make it for free?  Oh, yes!  If you go to your local Christmas tree farm, chances are they will let you take discarded Christmas tree branches home for FREE.  You could either drill a hole into the base of a tree-stump cast-off and glue a branch into it, or find some scrap wood to make and "x" with and drill a hole through both of those and the bind them together with glue.  Then, you need only find a very inexpensive red ornament and you have a sweet little Charlie Brown Christmas tree.  Be sure to hunt down a piece of light blue cloth for Linus's blanket while you're at it.
4. Felt Charger from target.com, $19.99/for 4
I happen to have a few yards of red felt in my craft closet from a project I never completed, but if you don't have that stashed away, you can find it at any fabric store.  If you add a coupon, you are really in business.  You will most likely have to spray it down with a glue or fabric stiffener so you are not constantly straightening it out.  Ideally, you would be best off using a thicker felt but you'd probably have to order it online and it would be harder to cut.  After you have your felt, download a snowflake image from google images (I go for the copyright free ones) and blow it up to the size you want it to be.  cut out the template, place it over the felt, and cut away!
5. Gilded pine cones from westelm.com, $2
Again, these are a pretty good price, but for $2, you could buy almost a whole can of gold paint and be able to make a LOT of them.  Plus, it's always fun to collect the memories along with the pine cones and you could even tag them with those memories when you hang them.
6. Woodland Snow Globes from redenvelope.com, $29.95
Snow globes have been very popular the last 2 Christmas seasons.  DIY's are popping up everywhere!  We all have our favorite techniques and glues to share.  You could totally pull these off with a few bottle-brush trees from the craft store and some jars out of your pantry (after you eat the food in them of course).  Last year I put LEGO guys in our and the boys loved it.  I love the look of these ones.  There are a few different looks which are fun and new (beyond your basic baby food jar), including putting jewelry in the snow globe.  How lovely, right?
7. Branch Christmas tree from anthropologie.com, $
This DIY could be a little trickier but totally worth it.  The tree would require strategic placement of branches starting with a wire base, most likely.  You have to be pruning constantly  but the result could stay in your holiday decor for years to come.
Have you seen any other decorations that have inspired you?
If you liked what you see, stick around and find me on:
F a c e b o o k  //  T w i t t e r  //  P i n t e r e s t  //  I n s t a g r a m  //  E m a i l