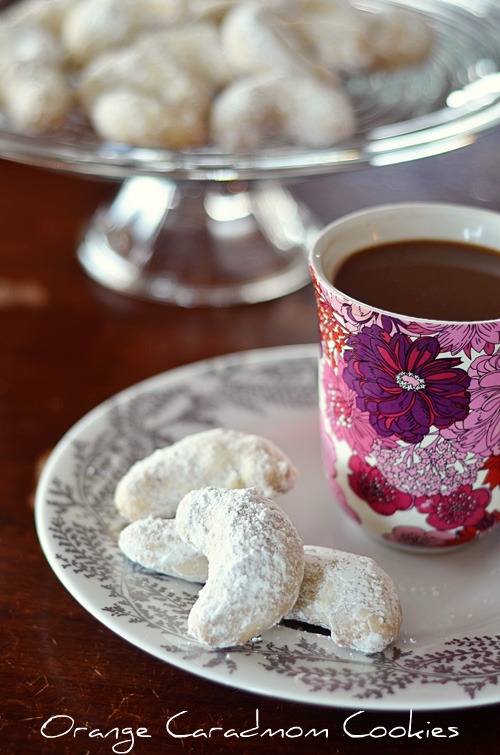 Every Christmas, I make the same cookie recipes.  I'm sure I'm not alone in this.  I love each one and have no intention of stopping this tradition.  However, every year I also am tempting by the intriguing new recipes from Bon Appetit, Martha Stewart Living, my old Gourmet's, and every other picture at the checkout line.  I look and look at my stacks of Christmas magazines but don't usually make time during Christmas for more than 1 or 2.  This year I made one from my list from 2 years ago, which I was reminded of by this Pinterest pin.  I've had cardamom cookies and marshmallows from a really great bakery in New York called Whimsy and Spice before.  They have really great sampler boxes if you are looking for a gift for a foodie…or anyone really.  Ever since I tried theirs, I've wanted to make some.
So, I give you my version which I added orange zest and hazelnut meal to.
Orange and Cardamom Crescents
(adapted from Bon Appetit)
3/4 tsp. cardamom
1/2 teaspoon ground cinnamon
1/2 teaspoon kosher salt
2 1/2 c. flour
1 1/2 cups powdered sugar, divided
3/4 c. hazelnut flour
1 c. unsalted butter, room temp
1 T. vanilla
Preheat oven to 350°.  Whisk cardamom, cinnamon, salt, and flour together. In a separate bowl, whisk 1/2 cup powdered sugar and hazelnut flour.  With your mixer, beat butter and vanilla until creamy. Add sugar/hazelnut mixture, zest, and beat to blend. Add the dry ingredients and blend until they form a course but moist mixture.  Flip onto the counter and knead a few times until it forms a ball.
Take a T. of the dough, form a ball, and roll it a few times in your hands until it makes a log.  It will be about 1 1/2 in long.  turn up the ends to make a crescent shape.  Place the formed cookies on a cookie sheet with parchment paper.  Bake for about 12 minutes.
Sift the rest of the powdered sugar (1 c.) onto a plate or something else you could use to roll the cookies in.  Roll the warm cookies in the sugar until the are covered and set on a rack to cool.
Post your Christmas Pinterest Pictures here…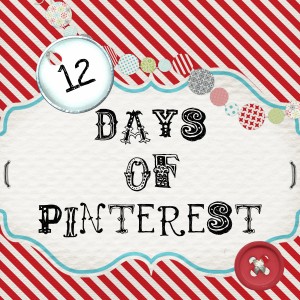 Check out day 1 here.