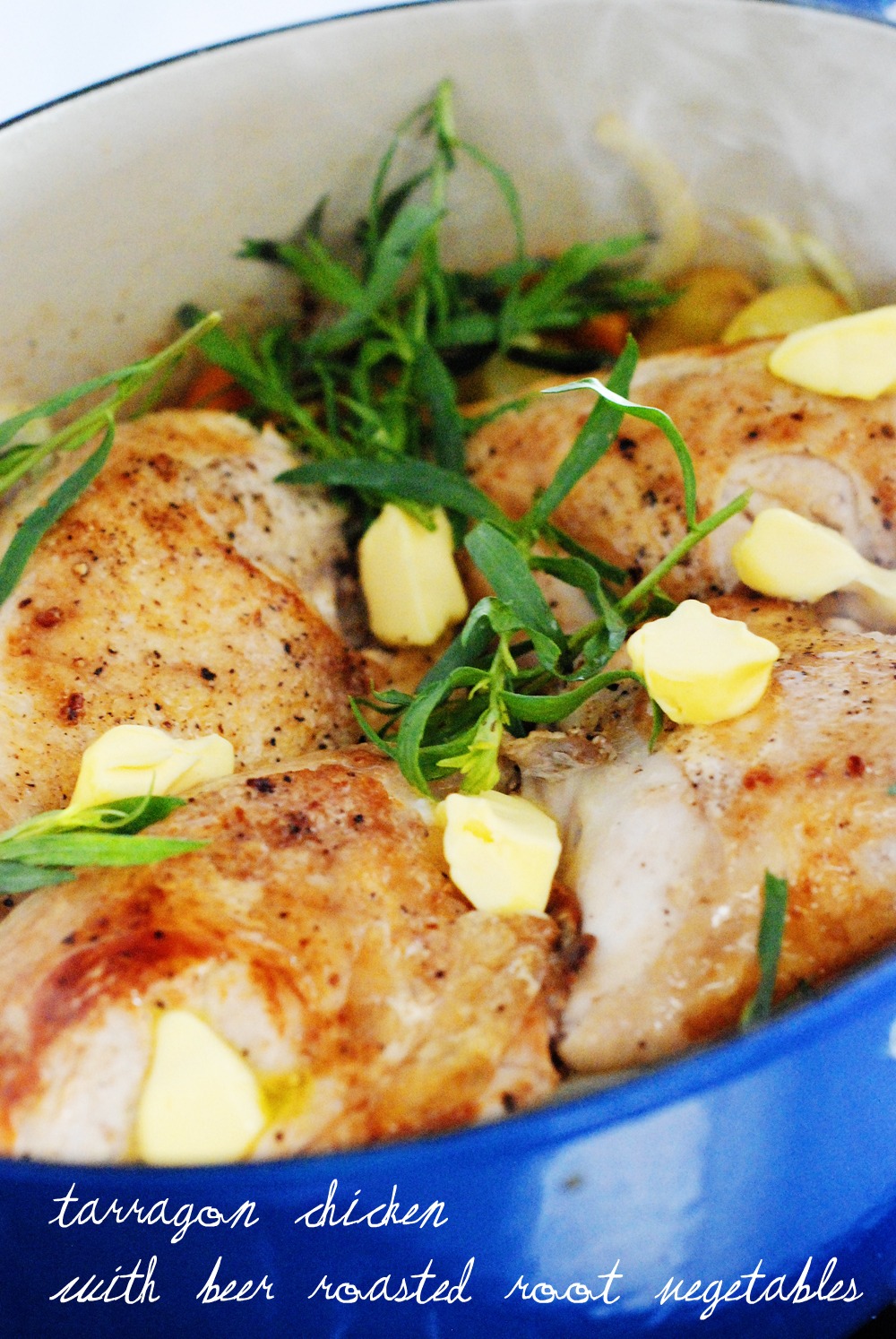 This dish is a favorite of mine for a quick dinner.  It is a one pot dish which is always lovely if you cook 3 meals a day like me.  I enjoy making food that is simple, but enters your mouth tasting more complex than it is.  This is just part of building flavor and letting a food, like this chicken, make its own sauce.  One thing i don't enjoy about traditional American food is that it's plain and boring and not exciting to eat.  It usually severely lacks salt and only contains a few ingredients.  Most people who cook this way, are not aware of it.  I've wanted to tell them that it's a simple fix, but I just assume they mean to do it.  So, I'm just gonna say it…don't be afraid of forming a relationship with good salt and the right amount!  I mostly use kosher and sea salt, but never table (iodized) salt.  I have slowly seen my friends convert over. I just gave my Dad a salt grinder this year, in fact.  It really does make such a difference.
French tarragon, used in this recipe, has bumped up on my" favorite herb list", of late, because it is not overused like basil or even thyme.  It has a light black licorice flavor, much like anise and another star of this dish, fennel.  Don't be concerned though, I think black licorice is disgusting and I love tarragon so you should be okay if you have similar licorice tendencies.  It is perennial, so is just coming alive again after its winter nap.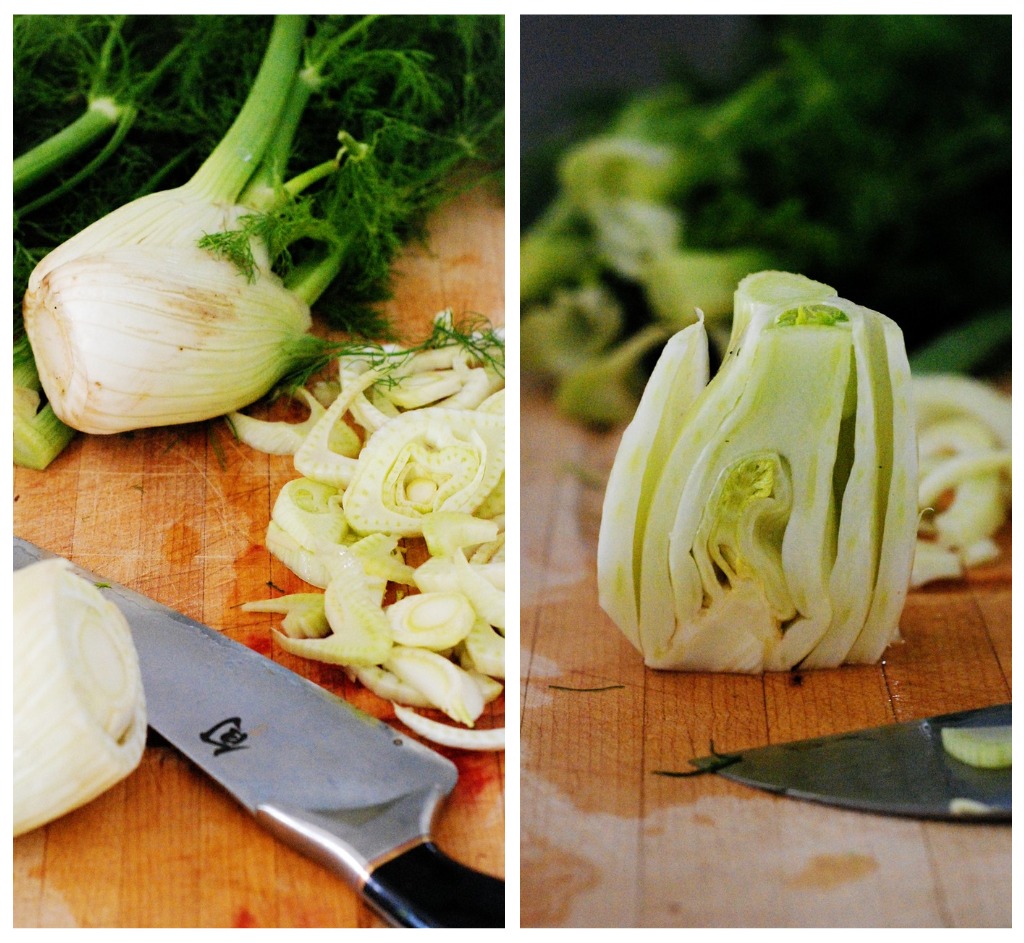 I love fennel.   I'm growing it but it is not quite ready yet.  Can't wait!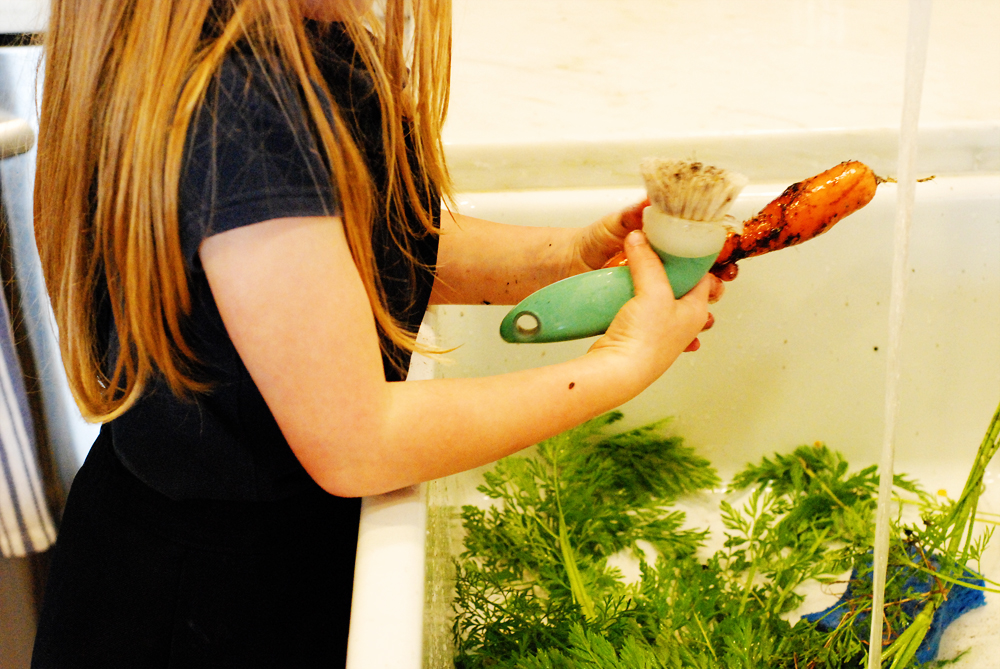 Scrubbing carrots from the garden is a perfect job for kids.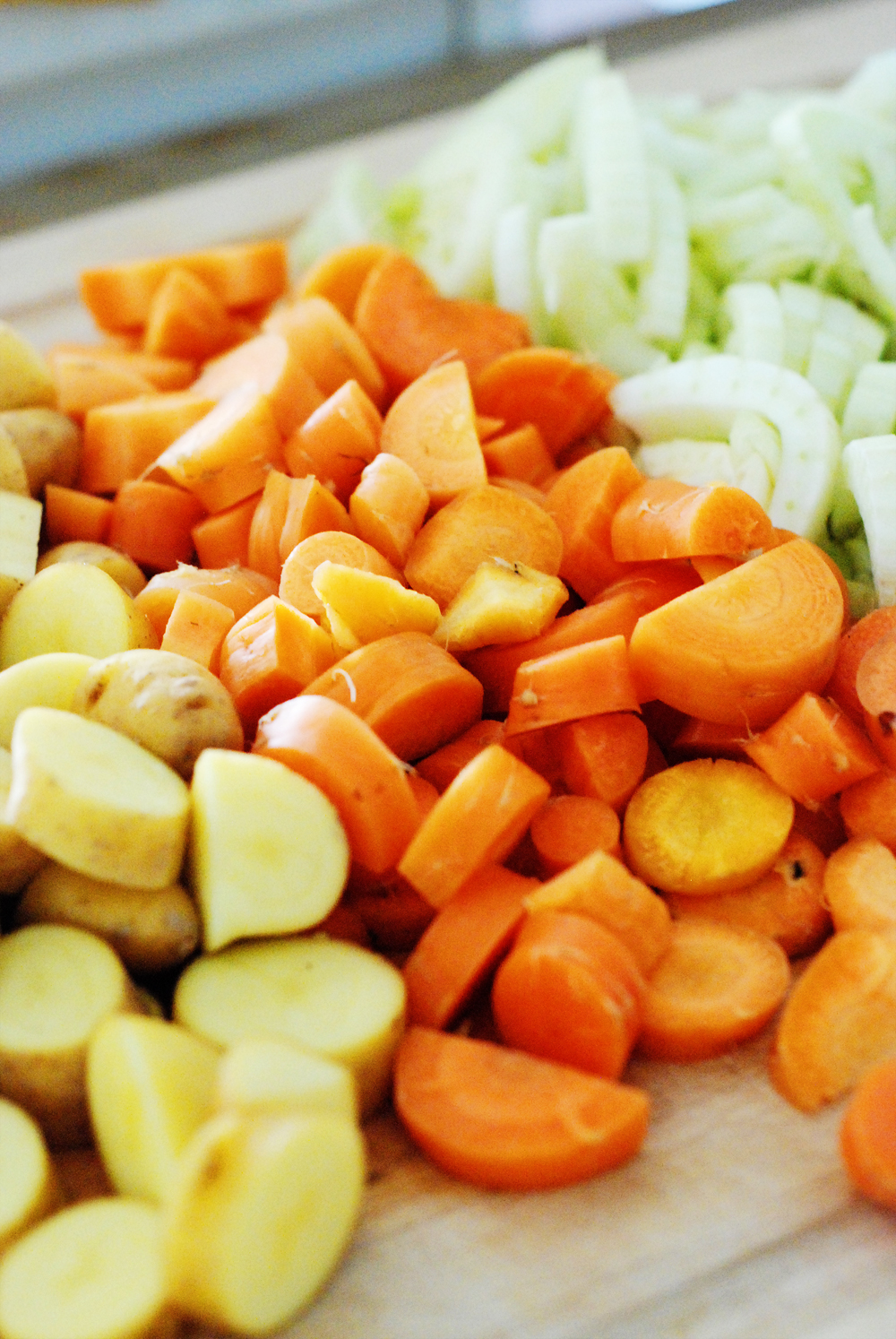 Salt and pepper the chicken pieces and cook in oil, on medium-high heat, until brown on all sides. Chop the root vegetables into bite size pieces while the chicken is searing.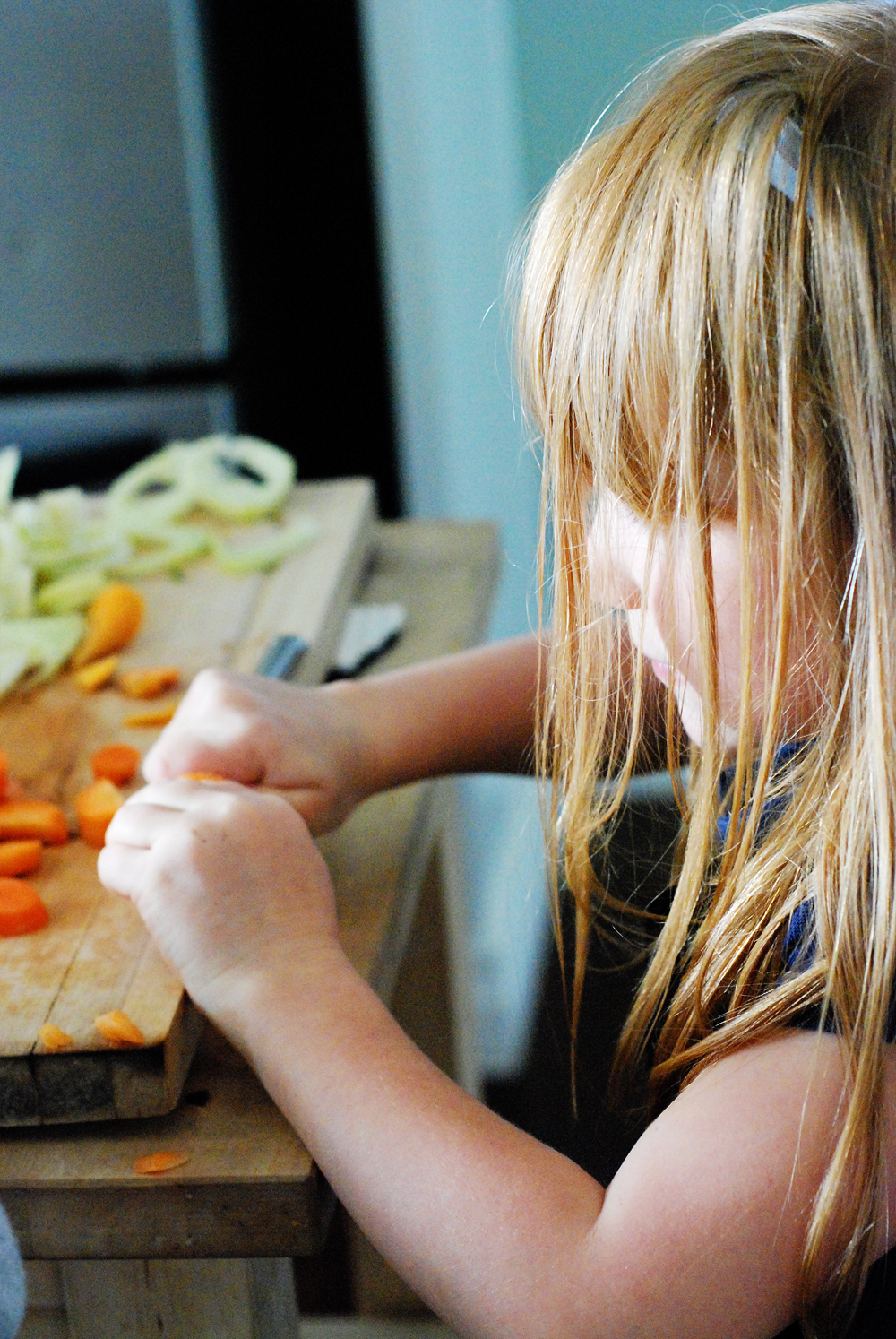 Miss F wanted to cut too, so she broke out a kid-friendly butter knife.  Hopefully none of her hair got in there…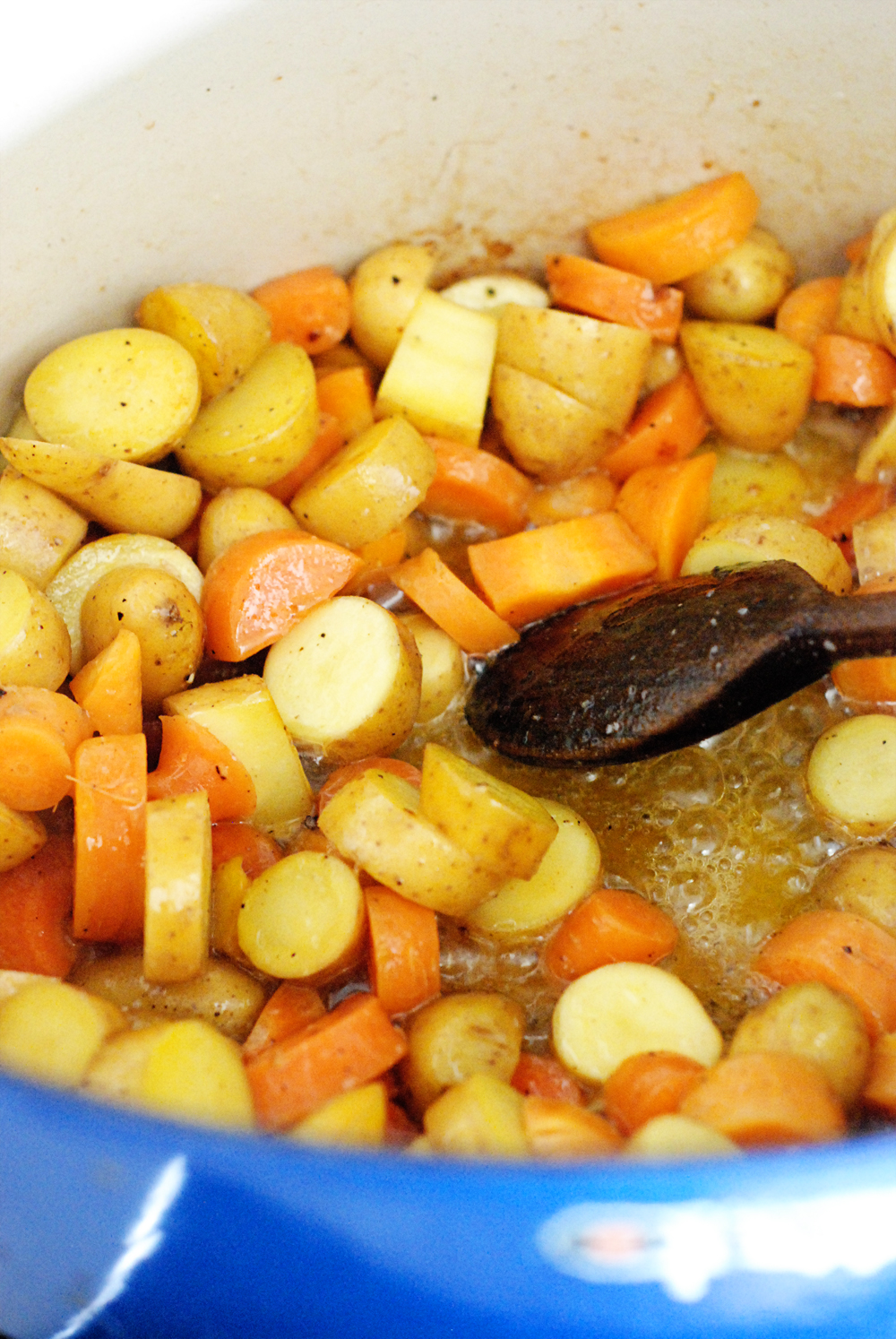 Preheat oven to 400. Heat olive oil in a pan.  Saute garlic for 1 minute, then add onions and s & p.  Sweat them and cook until slightly browned.  Stir in the root vegetables (more s & p) and saute for a few minutes. To make it interesting, I did poor half of my husband's beer in the last time I made it.  It was very tasty and is a new and different type of alcohol to deglaze the pan with.  It just helps remove the yummy bits of food from the pan and puts them back in your food.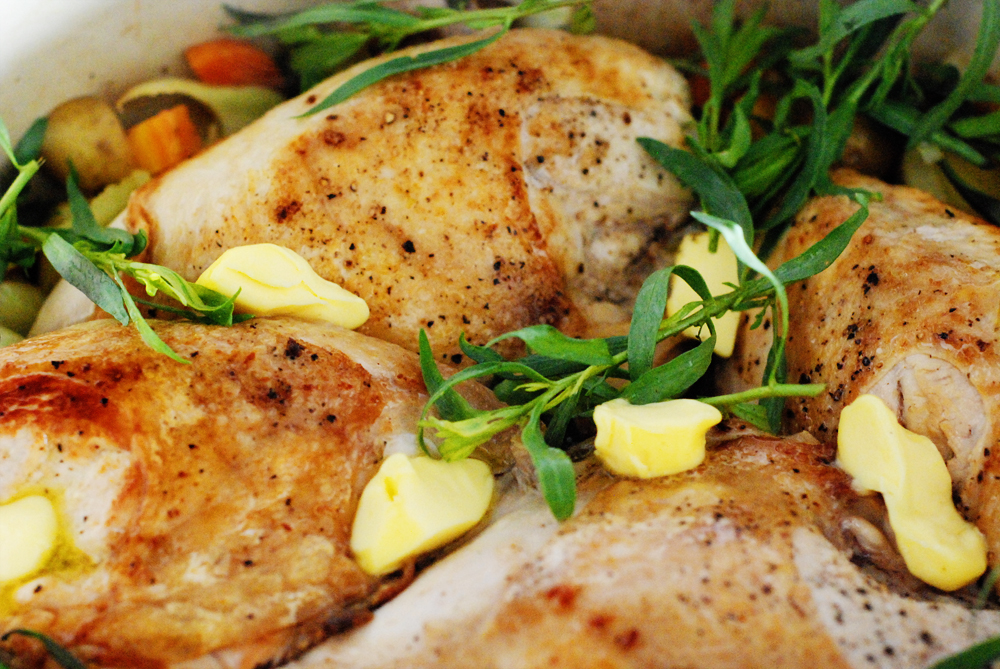 Add the browned chicken on top, the butter if you want it extra yummy, as well as the tarragon.  Bake in the oven until the chicken is cooked to 165.  Remove the chicken from the pan and return the vegetables to the oven. Turn the oven up to broil mode for 5 minutes, stirring as needed to keep from burning. Plate the chicken on top of the vegetables and serve to hungry people.
Tarragon Chicken with Beer Roasted Root Vegetables
1 whole chicken, pieced or 6 chicken pieces of your choice
2 pieces of fennel, tops removed
1 T butter or canola oil for the pan
4 cloves of garlic, pressed
salt and pepper (s&p used above)
1/2 stick of butter (optional)
1 cup of beer, any kind will work (optional)
4 sprigs of french tarragon
Remember to reach out to people and invite them over.  Life is about more than just the home we live in and the things we do in it.  This is a great meal for a group.  In fact, my friend just made it for some girls in need who were coming over for dinner.  Food can reach people in ways that words cannot! :)